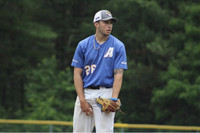 The Albany Dutchmen claimed a 15-3 win in seven innings over the Oneonta Outlaws on Friday, June 18th. Albany dominated all day long on the mound, at the plate, and on the basepaths.
The Dutchmen got off to an early 2-0 lead in the first inning when Mike Handal (Fairfield) made his Dutchmen debut with a leadoff double before being driven in on a Will Stroud (Azusa Pacific) sacrifice fly. Ryan McGee (Siena) singled and was driven in by Adam Zebrowski (St. John Fisher) who made his presence felt at the plate all day long.
Zebrowski was 3-4 on the day with two doubles and a home run totalling four RBIs on the day as the Division III Player of the Year hit the cover off the ball in his first game at Dutchmen Field at Keenholts Park. Fellow Dutchmen Mike Handal made his summer debut in amazing fashion as well as he was 2-3 with two walks and three runs on the evening for the Dutchmen.
Oneonta scored one run in the 4th, 5th, and 6th innings. Brenden Harris (Cypress) scored on an RBI single by Ryan Weiss (Oswego) to get on the scoreboard for Oneonta in the 4th. In the 5th it was Gunnar Johnson (Wofford) scoring on a wild pitch, and Oneonta's third run of the day came courtesy of a Jacob Hand (WPI) single which plated Baylor Cobb (Tulane).
Albany's bullpen continued its brillance on Friday, coming in to the day with a 1.92 ERA through 42.2 innings of work, Billy Fitzgerald (Fairfield) and Arlo Marynczak (Siena) combined for 2.2 innings, allowing one run while striking out four.
Albany's ten run seventh inning was highlighted by a three run home run by Adam Zebrowski, but eight Dutchmen batters reached base via base on balls or hit by pitch. Albany also totalled nine stolen bases on the evening as the Dutchmen ran wild on the basepaths all night.
Albany will look to keep the momentum rolling from the mercy rule win as the Dutchmen improve to 5-8, and take on the Glens Falls Dragons in a 5:00 doubleheader on Saturday, June 19th at Dutchmen Field at Keenholts Park.