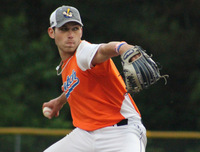 Saturday, June 22nd (Guilderland, NY) — The Albany Dutchmen fell to the Glens Falls Dragons 11-4 in a game that the Dutchmen never led in. It was five run 2nd and 4th innings from the Dragons that did the damage.
The Dragons opened up the scoring in the top of the 2nd when Joseph Curci (RPI) came across the plate on a Sac Fly from John Collins (Middlebury). The big blow in the inning came on a double that drove in two runs by Ryan Ash (Manhattan).
Peter O'Toole (Dartmouth) would add to that lead later in the inning with an RBI single. Ash would score later on the same play on a throwing error making the lead 5-0.
Glens Falls would double their lead in the 4th inning. Joseph Rende (Rochester) came in to score on a passed ball before Collins picked up his second RBI on the night with a single that drove in JC Caffarella (Iona).
The Dutchmen struggles would continue as Michael Gorman (Chapman) scored on an error. Colby Brouillette (Clarkson) would keep it rolling with a two-RBI double that plated O'Toole and Cory Listing (Coker).
The final Dragons run of the night would come on a solo home run from Evan Keegan (Castleton). Making the Glens Falls lead 11-0 through the top of the 5th.
The Dutchmen would crack the scoreboard in the bottom half of the 5th. Tom Kretzler (Brockport) drove a two-run home run to left field to make the score 11-2.
Albany was then able to scratch two more runs across in the bottom of the 9th. Jake Manderson (Georgetown) scored on an error. Later in the inning, Will Stroud (Azusa Pacific) drove an RBI double to the left-center field gap that brought in Isaac Humphrey (Louisville).
It was a strong pitching performance for the Dragons. Jack Silvia (St. Lawrence) threw 7.0 inning, allowing just 2 runs on 2 hits. Striking out 5 on his way to the victory.
With the loss the Dutchmen fall to 7-9 on the year. They have Wednesday and Thursday off before returning home on Friday to play the Mohawk Valley Diamond Dawgs for a 6:35 pm start.