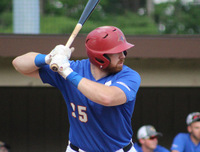 Friday, June 25th (Guilderland, N.Y.) — The Albany Dutchmen fell at home to the Mohawk Valley Diamond Dawgs 6-2. The Dutchmen fell to 7-10 with the loss.
It was a pitcher's duel to start the night. Ben Seiler (Siena) got the start on the hill for the Dutchmen. It was another strong outing for the lefty, throwing 6.0 innings, giving up 0 runs on 5 hits and 2 walks, while striking out 8.
The Diamond Dawgs countered with John Archer (Saint Thomas). Archer had a good night going 5.0 innings, giving up 2 earned runs on 4 hits and 1 walk, while recording 2 strikeouts.
The Dutchmen struck first when Will Stroud (Azusa Pacific) drove in Ryan McGee (Siena) on a sacrifice fly to center field. This gave the Dutchmen a 1-0 lead after one inning.
Albany would double their lead in the fourth inning with a big fly. Adam Zebrowski (St. John Fisher) blasted his fourth home run of the year as it just snuck inside the left-field foul pole to make it 2-0 Dutchmen.
The Diamond Dawgs would bring two runs across the plate in the top of the seventh to tie the game at 2-2. The first run came across when Rob Taylor (New Haven) came across the plate on a passed ball. Ryan Morash (Hofstra) would later come across on a fielder's choice to tie the game.
Mohawk Valley would then jump out to the lead in the very next inning. The Diamond Dawgs would score their third and fourth runs on the day via walks with the bases loaded. Evan Berta (Fairfield) and Alfredo Delgado (Manhattan) recorded the runs for the visitors.
Cedric Rose (UMass Lowell) would score later in the inning on a passed ball. The Diamond Dawgs would lead 5-2 after the eighth inning.
The Diamond Dawgs would tack on another run in the top of the ninth. Matt Venuto (Fairfield) came in on a walk to make the score 6-2.
The Dutchmen will return to action at home on Saturday for Stweart's Ice Cream Night at Dutchmen Field. They face off with the Glens Falls Dragons at 6:35 pm.