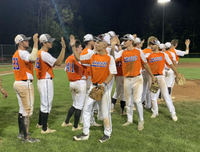 ​Saturday, June 26th (GUILDERLAND, NY)-- The Albany Dutchmen dominated the Glens Falls Dragons by a score of 13-2. Albany was brilliant on the mound, in the batters box and on the basepaths all night long.
Anthony Amoroso (New Paltz) began his dominance in the first inning and never hit a rough spot, as Amoroso threw 5 innings, allowing 4 hits and no runs to go with 4 strikeouts.
The Dutchmen bats quickly helped out Amoroso in the bottom of the first, as Mike Handal (Fairfield), Ryan McGee (Siena) and Will Stroud (Azusa Pacific) all reached on singles as the first three batters in the Dutchmen order. Adam Zebrowski (St. John Fisher) picked up the first night of the RBI on a walk, Isaac Humphrey (Louisville) barrelled an RBI single, and Zebrowski scored on a wild pitch.
McGee doubled in Handal in the second, and Christian Kondo (Stetson) picked up a two RBI single in the third to get the Dutchmen out to a 6-0 lead after three innings.
Ty Gallagher (Herkimer) joined the RBI fest on a walk that brought in Logan Beard (Louisville) in the fifth.
Joseph Rende (Rochester) cracked the scoreboard for Glens Falls in the top of the sixth bringing in Cory Listing (Coker) to cut the Dutchmen lead to 7-1. Glens Falls scored their only other run of the game when JC Caffarella (Iona) beat out a double play which scored Jack Stolper (Middlebury) in the seventh inning.
Albany took momentum back from Glens Falls in the bottom of the seventh on two unearned runs as Handal brought in Jack Peterson (Trinity) and Wood, both of which were unearned runs on an error.
Albany picked up four insurance runs in the bottom of the eighth when Jake Manderson (Georgetown) doubled in Will Stroud (Azusa Pacific). The highlight of the inning came when Jack Peterson (Trinity) hit a three run home run to make the final score 13-2.
The Dutchmen bullpen continued its dominance as Connor O'Neill (Manhattan), Adam Bogosian (Lafayette) and Luke Lyon (Ole Miss) combined for 4 innings of 2 hit, 1 earned run and 5 strikeouts of work.
Albany also tore up the base paths on five stolen bases, two coming from Isaac Humphrey (Louisville), and Logan Beard (Louisville), Garrett Wood (Ole Miss), and Christian Kondo (Stetson) each swiped a bag.
Albany plays a doubleheader at Glens Falls Sunday, June 27th at 5:00, and the Dutchmen return home for a 6:35 first pitch on Monday, June 28th at 6:35 which is Fitness Night Sponsored by Planet Fitness.