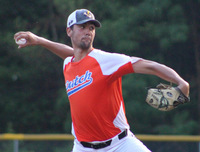 Monday, June 28 (Guilderland, NY) — The Albany Dutchmen dropped to 9-12 on the year falling to the Saugerties Stallions 12-2. It was a nine run seventh inning for the Stallions that put the game out of reach.
The Stallions opened the scoring in the top half of the second. Gene Napolitano (Marist) drove in Josh Stevenson (Louisiana State) on an RBI single. Napolitano had four hits on the day to lead the stallions.
Saugerties would double their lead in the top of the fourth. Andrew Wilhite (Minnesota) drove a double to right field to score Stevenson but a strong relay throw from Will Stroud (Azusa Pacific) cut down Napolitano at the plate.
The score remained the same until the top of the seventh inning. At which point the Stallions exploded for nine runs to make the lead 11-0.
The highlights of the inning for Saugerties were a two-RBI single by Gunner Gouldsmith (Washington State) and a double from Fritz Genther (Virginia Tech) for his first RBI of the year. Add two more two-RBI doubles coming from JP Tighe (Georgia Southern) and Napolitano.
The Dutchmen would score their first run of the day on an RBI single from Logan Beard (Louisville) to score Adam Zebrowski (St. John Fisher). That run made the score 11-1 after seven innings of play.
Each team would tack on one more run in the ninth inning. Kip Fougerousse (Indiana) drove in Tighe for the visitors. Tom Kretzler (Brockport) would drive in Stroud on a double to make the score 12-2.
The Albany Dutchmen will return to action tomorrow when they visit the Amsterdam Mohawks for a double header with a 5:00 pm first pitch. The Dutchmen will then return home Wednesday to face off with the Oneonta Outlaws with a 6:35 pm start.