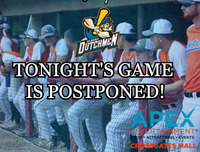 Wednesday's double header against the Amsterdam Mohawks has been rained out. Both games will be made up later in the season as apart of two separate double headers.
The first makeup date will be Monday, July 26th at 5:00 pm. The second makeup date will be Thursday, July 29th at 5:00 pm. Amsterdam will be the home team in all of these games.
The Dutchmen will return to action on the road tomorrow when they visit the Saugerties Stallions with a 7:05 pm start. Albany will not return home until Friday, July 16th for a double header against the Stallions.