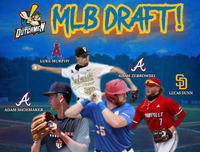 Four Albany Dutchmen were selected in the 2021 MLB Draft. Day two saw 2018 Dutchmen teammates Luke Murphy (Vanderbilt) and Lucas Dunn (Louisville) drafted, and on day three 2021 Dutchmen teammates Adam Zebrowski (St. John Fisher) and Adam Shoemaker (St. John's) were selected.
Luke Murphy and Lucas Dunn will be heading west, as Murphy was drafted by the Los Angeles Angels in the 4th round with the 110th pick and Lucas Dunn was selected by the Padres in the 8th round with the 250th pick.
Adam Shoemaker and Adam Zebrowski were both selected by the Atlanta Braves, Shoemaker going in the 11th round with the 337th pick, and Zebrowski was selected with the 397th pick in the 13th round.
Luke Murphy carried a 1.50 ERA in his 2018 Dutchmen season, when he was heading into his freshman year at Vanderbilt University. Murphy also picked up a save on the season, a fitting stat as he eventually assumed a closer role for nationally ranked Vanderbilt.
The tall righty carried a 2.40 ERA through 41.1 innings of work at Vanderbilt in 2021, while holding batters to a .169 batting average. Murphy struck out 61 to go with nine saves, the latter tied for the team lead.
Lucas Dunn was a PGCBL All-Star in 2018, getting the nod to start at second base as one of six Dutchmen named to the all-star team, the most selections a single team had in 2018. Dunn was named to PGCBL All-League Second Team, as the Florida native batted .325 to go with seven extra base hits and 18 RBIs in the summer.
Dunn batted .266 with 10 doubles, 6 home runs, and 31 RBIs in his 2021 campaign at Louisville. Dunn also had a tremendous sophomore year in 2019 at Louisville with a .319 average along with 25 RBIs.
Adam Zebrowski is one of the best hitters in the PGCBL thus far this summer, keeping his hot bat rolling after being named the Division III Player of the Year. This summer, Zebrowski is batting .352 with 6 home runs, 16 RBIs, and a 1.216 OPS, leading the squad in all of those categories.
Zebrowski put up video game numbers in his junior season at St. John Fisher in 2021. Zebrowski's freshman year ended after two games due to injury, his sophomore season was cut short due to COVID, but in his first full college season the Albany, NY native absolutely mashed. Zebrowski banged a Division III leading 20 home runs while also leading Division III with 70 RBIs, and ranking second with a .500 batting average, en route to being named Division III Player of the Year.
Adam Shoemaker is the second ranked player in Ontario, and the top ranked left handed pitcher. Shoemaker has been pitching for the Great Lake Canadians and his fastball has been clocked up to 95 miles per hour heading into his freshman year at St. John's.
Shoemaker has not yet joined the Dutchmen due to the Canadian border remaining closed due to COVID.
Follow the Albany Dutchmen on Twitter and Instagram @DutchmenPGCBL for updates on all of the Dutchmen in the Pros.