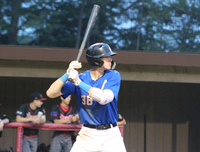 The Albany Dutchmen picked up a thrilling 7-6 win in a back and forth game against the Glens Falls Dragons.
Glens Falls got off to an early 3-0 lead in the top of the first inning courtesy of a Cole Durkan (Stony Brook) three run home run that gave the Dragons early momentum.
After the first inning Arlo Marynczak (Siena) did a great job keeping the game within reach for the Dutchmen, going five innings while allowing four hits, and the only runs allowed coming on Durkan's home run.
Albany cracked the scoreboard in the third inning, as 3rd and 4th hitters Mike Handal (Fairfield) and Will Stroud (Azusa Pacific) picked up back to back RBI singles to bring the Dutchmen within one.
Albany tied the game in the bottom of the fifth as Jake Manderson (Georgetown) scored on a passed ball, to make the score 3-3.
The dead lock was broken in the sixth inning on an Isaac Humphrey (Louisville) double that scored Nick Schwartz (St. John's).
Glens Falls tied the game back up in the seventh on a Dutchmen error.
Albany retook the lead in the bottom of the seventh on a wacky play that featured players from three local colleges. George Rainer (RPI) singled in Chase Carroll (UAlbany), and Ryan McGee (Siena) came around and scored on a throwing error.
Andrew Gough (Middlebury) doubled in Cameron Collett (Marshall) for another Glens Falls unearned run that brought the Dragons to one run down in the eighth.
Albany gained a needed insurance run in the eighth on a Johnny Decker (Stony Brook) single that scored Nick Schwartz (St. John's) to put the Dutchmen ahead by two.
Glens Falls loaded the bases with one out in the ninth but was only able to plate one on a sacrifice fly by Nick Marola (UMass Lowell) before Colin McVeigh (Fairfield) was able to get a fly out to end the ball game.
Albany returns Tuesday at 7:00 in Saugerties and the Dutchmen return home Thursday to take on Oneonta at 6:35.