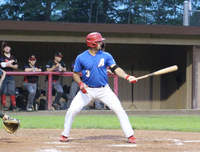 Tuesday, July 20th (Saugerties, NY) — The Albany Dutchmen fell to the Saugerties Stallions 14-2 Tuesday night. The game only lasted seven innings as the Stallions reached the 12 run mercy rule in the bottom of the seventh.
The Dutchmen were the first to crack the scoreboard in this one. Nick Schwartz (St. John's) drove an RBI single to left field that brought Ryan McGee (Siena) into score making it 1-0.
It was all Stallions after that however. Saugerties responded with two runs in the first inning themselves. Tyler Kelder (St. Bonaventure) cranked a two-run home run to give the home side a 2-1 lead.
It was a five run second inning for Saugerties that gave them control early. The inning was highlighted by RBI doubles from Andrew Wilhite (Minnesota) and Josh Stevenson (LSU). Kip Fougerousse (Indiana) also contributed an RBI single in the frame to make the score 7-1.
After adding another run in the fourth, the Stallions tacked on three more in the fifth all on one play. Max Morris (St. Thomas) drove a two-RBI single into right field, another run would score on the play thanks to an error making it 11-1.
Albany would get one back in the top of the seventh. Christian Kondo (Stetson) drove a line drive to right field to bring in a run cutting the deficit to 11-2.
The Stallions would close things out in the seventh inning by scoring three more runs. Morris picked up another two RBI's on a single before Jarrett Brown (Georgia Southern) scored the final run on a passed ball.
The Dutchmen will have the day off tomorrow before returning home to face off with the Oneonta Outlaws. First pitch is slated for 6:35 pm.