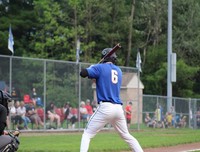 Albany Dutchmen fell in a 6-5 loss at the Mohawk Valley DiamondDawgs after coming back from a 4-0 deficit.
The first five and a half inning were a pitchers duel with neither team scoring a run. Ryan Yerby (RPI) threw five innings for Albany, allowing two hits and striking out eight without allowing a run across. Keegan Leffler (UMBC) allowed five hits over six shutout innings, while striking out seven.
Mohawk Valley got on the scoreboard first in the sixth inning, as Daniel Burnett (Hartford) drove in Evan Berta (Fairfield) and Rob Taylor (New Haven).
In the seventh inning, Tyler Cannon (Iona) hit a sacrifice fly that brought in Mike Becchetti (Fairfield), and Evan Berta (Fairfield) singled in Matt Venuto (Fairfield) to extend the Mohawk Valley lead to 4-0.
Albany took the lead behind a massive five run eighth inning. Tom Kretzler (Brockport) singled in Ryan McGee (Siena) and Mike Handal (Fairfield) to get the Dutchmen on the board. Isaac Humphrey (Louisville) doubled in Nick Schwartz (St. John's) and Tom Kretzler (Brockport) to tie the game up at four. Ty Gallagher (Herkimer) traded places with Humphrey for an RBI double to put Albany ahead 5-4.
Mohawk Valley responded in the bottom of the frame, as Vincenzo Castronovo (Bryant) banged a solo home run to tie up the game, and Mike Becchetti (Fairfield) singled in Cedric Rose (UMass-Lowell) as the DiamondDawgs went on to win 6-5.
Albany travels to Amsterdam for a doubleheader beginning at 5:00 on Monday, and the Dutchmen will play the final home game of 2021 on Tuesday at 6:35 against Oneonta.