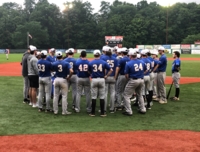 Thursday, July 29th (Amsterdam, NY) — The Albany Dutchmen season finale against the Amsterdam Mohawks has been cancelled in the second inning due to rain. The Dutchmen led 3-1 when the game was called.
Albany opened the scoring in the top of the first. Isaac Humphrey (Louisville) drove a double to the left-center field gap that brought home two runs, giving the visitors an early 2-0 lead.
Amsterdam bounced right back in the bottom half of the inning. Bryce Eblin (Alabama) answered with an RBI double of his own to make the score 2-1.
The Dutchmen would score their final run of the season thanks to an RBI single from Jack Peterson (Trinity) which scored Christian Kondo (Stetson). This brought the score to 3-1.
The game would enter a rain delay shortly after, which was then called just minutes later. At the time of the delay, the Dutchmen had the bases loaded with just one out in the top of the second inning.
The contest will not be made up with the PGCBL playoffs set to begin tomorrow. The Dutchmen will finish the season with a 21-21 record, good for third place in the PGCBL East division.