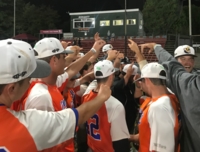 The Albany Dutchmen finished up the 2021 PGCBL season with a 21-21 record. A record that was good for third place in the PGCBL East division.
The Dutchmen started the year playing up and down baseball. An early highlight of the season was the home opener at Keenholts Park, a 3-0 victory over the Saugerties Stallions on June 5th.
After a 3-8 start, the team turned it around. Going on a four-game win streak featuring a doubleheader sweep over the Glens Fall Dragons.
The Dutchmen would then go on to finish the month of June with a 9-14 record. Things would get turned around in July, as the team opened the month with some fireworks going on a season-high six-game win streak.
That streak started on Sunday, July 4th and lasted all week as the Dutchmen would not lose another game until the following Monday. The highlight of the week, a 12-4 victory over the first place Amsterdam Mohawks.
Albany would go on to play up and down baseball to finish out the season. Going 12-7 in the month of July, making the overall record 21-21. Finishing up the year on a two-game winning streak to end the season on a high note.
The Dutchmen as a team were known for their well balanced offensive attack. The team batted .272 on the year, good for second in team batting average in the PGCBL, while also blasting 26 home runs, which was good for third in the PGCBL.
The highlight on the offensive side was the speed. The Dutchmen led the league with 118 stolen bases on the year.
As a pitching staff, the Dutchmen were good for a 4.52 ERA. Allowing teams to hit .236 against them.
On an individual level, the Dutchmen had multiple standouts. Out of hitters who qualified, Nick Schwartz (St. Johns) led the Dutchmen in batting average, hitting .340 on the season. Schwartz also hit 6 doubles, 1 home run and drove in 10 RBI on the year.
When it came to power, Tom Kretzler (Brockport) was the team leader. Kretzler blasted 7 long balls on the year, which was good for second in the PGCBL in home runs.
On the mound, Ben Sieler (Siena) was the team leader amongst qualified pitchers. Sieler went 3-2 on the season, with a 2.82 ERA in 35 innings pitched for the Dutchmen.
To cap off the season, the Dutchmen also named Will Stroud (Azusa Pacific) Dutchmen Player of the Year Presented by SWZLE. Sieler was also selected as the Dutchmen Pitcher of the Year Presented by SWZLE.
The Dutchmen did not make the PGCBL playoffs this year. However, the team ended the season on a high note winning three out of their last four games.