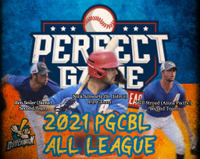 September 30th, 2021
AUBURN, NY-- Perfect Game Collegiate Baseball League announced its 2021 All-League teams after the Fall Meeting in Auburn on Sunday. Three Albany Dutchmen players were nominated to the All-League teams by league executives at Falcon Park.
Nick Schwartz (St. John's) was named First Team, while Will Stroud (Azusa Pacific) and Ben Seiler (Siena) were named to Second Team.
Nick Schwartz received First Team honors at catcher as his .340 average, 17 walks, and 9 stolen bases all led the position. The Massapequa, NY native also tallied 10 RBI, 6 doubles, and scored 20 runs in 100 at bats.
Will Stroud got the Second Team nod at second base as he led the position with 16 stolen bases and one home run. The 2021 Albany Dutchmen Player of the Year carried a .330 average while producing 19 RBIs, 21 walks, 6 doubles, and scored 17 runs in his first New York summer.
Ben Seiler was nominated as a Second Team Starting Pitcher with a 2.83 ERA that ranked fifth amongst qualified pitchers. The 2021 Albany Dutchmen Pitcher of the Year showed his ace ability as he led the squad with 42 strikeouts and 35 innings pitched.