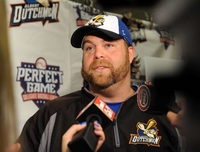 *Today's interview is exclusively on our Spotify and Apple Podcast pages. Go to your preferred podcast platform and search Albany Dutchmen for today's interview!
Head Coach Nick Davey recently sat down with Joey Palatsky to discuss the 2021 season and share some stories about Dutchmen in the pros.
Every summer, a primary goal of the Albany Dutchmen is to help players improve and be more skilled in August than they were in May; that is a goal Coach Davey says was accomplished in 2021.
"It was a very productive season developmentally. If we send them back better than what they came to us as then we did our job. It's been our goal for the 11 years I've been here and I think we did that," Davey said.
2021 also marked the first summer that Keenholts Park was the home of the Albany Dutchmen, a venue and a town that Coach Davey has roots in.
"We have a lot of support in Guilderland. Guilderland Baseball welcomed us with open arms. It's a community that (Guilderland Varsity Baseball) Coach LaValley at Guilderland High School introduced me to, that I was a part of and I still feel a part of today," Davey said.
Three Dutchmen received All-League recognition this past summer: Nick Schwartz (St. John's) garnered First Team honors, while Ben Seiler (Siena) and Will Stroud (Azusa Pacific) received Second Team recognition.
Schwartz led all PGCBL catchers with a .340 average, 17 walks, and 9 stolen bases, to go with his 10 RBIs and 20 runs scored.
"Nick (Schwartz) quietly did his job everyday which is what made him really good. He communicates well, has a high baseball IQ, gets his preparation in before game, a quiet leader and someone that went about his business everyday and then you look up at the end of the year and say wow," Davey said.
Seiler carried a 2.83 ERA that ranked fifth amongst PGCBL pitchers while punching out a team leading 42 batters in his 2021 campaign that marked his third summer in a Dutchmen uniform.
"Ben (Seiler) is a tremendous kid. First and foremost, a great leader. I hope my boys grow up to have some of the characteristics he shows. He's a great young man, he grinds and has made changes every step of the way. Every summer he's pitched with us, he got better and showed development every summer and it was enjoyable having him back," Davey said.
Stroud led PGCBL second basemen with 16 stolen bases and one home run, while carrying a .330 average with 19 RBIs, 6 doubles, and 17 runs scored in his first New York summer.
"Will (Stroud) really competed for us. He knew what he needed to work on, had a great summer developmentally, and competed on a day to day basis to prove to himself he can go back to Azusa and be a guy they can rely on. Azusa guys come here, do what they need to do then go back there for great careers. I'm really happy to continue our relationship with them and coach him," Davey said.
The summer of 2021 also saw Adam Zebrowski get drafted in the middle of his summer with the Dutchmen. The CBA/St. John Fisher product won Division III Player of the Year and continued mashing into his summer with the Dutchmen, posting a .352 average, 6 HR, 5 doubles and 16 RBIs in his 54 Dutchmen at-bats. Zebrowski not only had to prove that he could hit well against the elite arms of the PGCBL, but also had an extremely full plate throughout the summer.
"Zebrowski had his mind not only on the draft but he also had to figure out what the next school was because he was in the transfer portal. Now we're worrying about the baseball games we have to compete in, who we're talking to draft wise, and now we're talking to different college coaches. I'd have trouble doing one of them and we're putting all that on a 19 year old kid. He handled it like an adult, there's not enough kind words to say," Davey said.
As impressive as Zebrowski was balancing everything off the field throughout the summer, Coach Davey has lots of praise for his on field performance.
"The thing that impressed me the most about him was he's a physical specimen with not just pull power. He's at his best when he was hitting home runs to the middle of the field. Hitting the other way will come a lot easier to him because he already knows how to use the middle, and the sound off the bat is just different with a kid like Zebrowski," Davey said.
2014 Dutchmen Ernie Clement made his Major League debut with the Cleveland Indians in June, seven summers after playing his first collegiate baseball games as a University of Virginia commit in Albany. Clement had his fair share of an adjustment phase with the Dutchmen, having some early struggles.
"Me, Sean Buchanan, and Kevin Salmon were on our way home from Amsterdam after Ernie struggled, and this is something we talk about to this day, we get to the last toll booth in Guilderland and I get a text from Ernie Clement saying "Coach, put me in the lineup tomorrow I'm done being a high school player", and those are strong words for a kid that just spent two weeks at the lowest he's had in his baseball career, it was a look in the mirror for him," Davey said.
Be sure to go to the Albany Dutchmen Spotify page for the full episode!