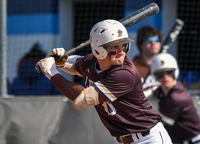 The eighth group of Albany Dutchmen player announcements for the 2022 season is composed of a couple pairs of collegiate teammates; Tyler Young and Lucas Rich (Lehigh) alongside Frankie Sanchez and Zach Ranney (Southern New Hampshire) are the newest additions to this summers' squad.
Tyler Young has been sensational at shortstop this year at Lehigh, as his .348 batting average, and .444 on base percentage each rank in the top five in the Liberty League, and his .889 OPS ranks seventh in the conference.
"This past winter I really focused on being more aggressive, getting my pitch, I've been seeing the ball real well, I just want to keep winning," said Young.
Lucas Rich garnered multiple awards before his first collegiate outing, as the New Jersey native was named the Patriot League's Top Newcomer prior to the 2021 season by Perfect Game, and was named Patriot League Preseason Freshman of the Year by D1Baseball.
"In high school the competition obviously isn't where it is in the collegiate level, those preseason awards didn't quite hold up but I'm getting back to that point, the velo has always been there, now it's refining the pitches and mechanics, that's the goal for the summer, eating up innings, dominating, getting on the mound and performing to my highest capabilities," said Rich.
Frankie Sanchez has made the most of his innings on the mound as a freshman at SNHU, with 10 strikeouts in 7.1 innings this season for the Penmen.
"When I got here I was a high velocity thrower, I just needed to clean up my breaking ball, fix my grips a little bit, getting a feel for it and locating it, when spring came around my slider was a lot sharper, things have been going really well but I'm excited to get some more innings this summer," Sanchez said.
Zach Ranney has appeared in 16 games this season with no errors, but his bread and butter is his running and defensive abilities.
"The big thing I bring to the table is my speed, I ran a 6.43 (60 yard dash) in the fall, I can track down balls pretty far, I've always been a pretty good glove, I try to put the ball in play and let my speed do the work," Ranney said.
Stay tuned for group nine, coming soon!