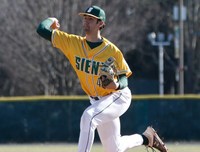 The ninth group of Albany Dutchmen player announcements for the 2022 season is made up of a trio of pitchers, including two returners; Arlo Marynczak (Siena) and Tristan Nemjo (Hofstra) return for their second summer in Albany, while Danny Kelleher (Hofstra) will be coming for his first.
Arlo Marynczak held a 2.25 ERA with 24 strikeouts through 20 innings of work last summer for the Dutchmen. The Bethlehem graduate currently ranks eighth in the MAAC this season for strikeouts (72), and has struck out 10 batters in each of his past three outings. Marynczak says that plenty of his success is due to his work with the Dutchmen coaching staff.
"Last summer was the first time I got some quality time with Coach Davey, my growth and development really reflected that, the development of what I have to do each day and the intent in which I'm practicing has been a big part of what Coach Davey preaches," Marynczak said.
Tristan Nemjo worked 12 innings last summer that led to a 3.75 ERA and 16 strikeouts to go with it. The Tamarac native has thrown 32.2 innings at Hofstra this season while holding opponents to a .230 batting average.
"I learned a lot last summer from Coach Smoke and Coach Saviano, I became more confident on the mound with more experience throwing a lot of innings last summer helped me coming into this (school) year," Nemjo said.
Danny Kelleher has thrown 17.1 innings this season for Hofstra to go with 13 strikeouts. His best outing was his most recent one, going 4 innings, 3 hits, 2 earned runs and 5 strikeouts on May 3rd.
"My season started off a little slow, I've been working with our coaches and improving and my outings keep getting better as the season goes along," Kelleher said.
Stay tuned for group ten, coming soon!