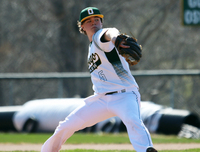 The tenth group of Albany Dutchmen player announcements for the 2022 season is made up of a combination of talent from all levels of baseball from across the country; Daniel Perez (Manhattan), Cam Jordan (San Jacinto), Devin Campbell (Oswego), Luke Pusz (Herkimer) and Chance Checca (Herkimer).
Daniel Perez is a freshman outfielder at Manhattan College, he is yet to appear in a game in his first season, but holds an 8.5/10 Perfect Game ranking out of Cheshire Academy, and was the 5th ranked shortstop in Connecticut for the Class of 2021. The Connecticut native also earned First Team All-Western New England Prep Baseball.
Cam Jordan is a freshman outfielder at San Jacinto College, batting .176 with a .333 on base percentage, but four of his six hits on the season are extra base hits. The Indiana native holds a 9/10 Perfect Game ranking, and was ranked the 8th best player in Indiana's Class of 2021. Jordan also played football in high school, and holds the touchdown record at Indianapolis Cathedral High School.
Devin Campbell is a sophomore pitcher at SUNY Oswego, he holds a 10.38 ERA in 4.1 innings to go with five strikeouts. Campbell graduated from Guilderland High School in 2020, and will return to his home field of Keenholts Park this summer as a member of the Albany Dutchmen.
Luke Pusz is a pitcher at Herkimer County Community College, he holds a 0.84 ERA with 10 strikeouts in 10.2 innings of work this year for the Generals. Pusz is a 2019 graduate of Mohonasen High School, and will be returning to the Capital Region this summer.
Chance Checca is an infielder at Herkimer County Community College, he is batting .225 with 6 home runs, 27 RBIs, and a .386 on base percentage for the Generals this year. Checca was a member of the 2019 Ballston Spa State Championship team, and will return to the Capital Region this summer.
Stay tuned for group eleven, coming soon!