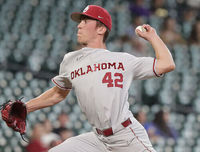 The eleventh group of Albany Dutchmen player announcements for the 2022 season is made up of talent from Division I Top 25 programs; Austin Bode (Louisville), Mason Lowe (Oklahoma), and Luc Fladda (Oklahoma)
Austin Bode is a freshman catcher at University of Louisville, who is a highly ranked recruit in the Class of 2021, and currently making the most of his chances with the Cardinals. Bode was ranked a 9/10 on Perfect Game, the 6th best player in Indiana's Class of 2021, and one of the top 300 players in the nation for his graduating class. The Indiana native is batting .308 (4-13), with a double and 3 RBIs, and seems to be the next big thing for the Cardinals, following the footsteps of former Dutch and current Louisville stars Logan Beard, Isaac Humphrey, Ben Metzinger and Cam Masterman.
Mason Lowe is a redshirt junior infielder at University of Oklahoma, and is a former JUCO standout. The Oklahoma native raked at Hutchinson Community College, batting .365 with 12 home runs, 11 doubles, six triples, and 47 RBIs in 2021.
Luc Fladda is a freshman left handed pitcher at University of Oklahoma, and the 2nd ranked left handed pitcher in Missouri's Class of 2021. At Lafayette Senior High School in Chesterfield, Missouri, the lefty went 9-1 with a 1.17 ERA and 94 strikeouts across 54 innings of work.
Stay tuned for group twelve, coming soon!