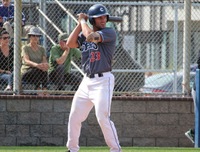 The 12th group of Albany Dutchmen player announcements for the 2022 season is made up of local products; Ben Lavery (St. John Fisher), Brenden Harris (Cypress), and Hunter Harris (Santa Ana).
Ben Lavery recently received Empire 8 First Team recognition for a season in which his .611 slugging percentage, 1.025 OBP, 52 hits and 52 RBIs all rank top five in the conference, while his 12 home runs led the conference. The Shenendehowa graduate is a key contributor to an SJFC lineup that won both the Empire 8 Regular Season Title, as well as the Conference Tournament.
Brenden Harris recently got the First Team All-Orange Empire Conference nod for a season that featured a .434 batting average that ranks second highest in program history, to go with a .708 slugging percentage, 24 RBIs and seven home runs. The Guilderland product was the 10th ranked shortstop in New York's Class of 2020, and will bring his powerful bat to his home field of Keenholts Park this summer.
Hunter Harris worked 12.2 innings out of the bullpen this year for Santa Ana and punched out 19 batters in that span. The righty's best outing of the 2022 campaign came on March 24th, when he threw 3.2 innings, 3 hits, 1 earned run and 4 strikeouts. The Guilderland grad was the 19th ranked right handed pitcher in New York's Class of 2018, and will join his brother Brenden as the duo join the Dutchmen.
Stay tuned for group 13, coming soon!