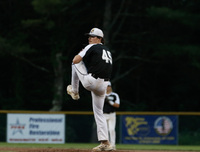 (ALBANY, NY)-- Albany fell 7-5 to Amsterdam on Wednesday night at Keenholts Park.
Action got going quickly in the first inning, as Amsterdam got ahead to a 3-2 lead. A pair of RBIs on fielder's choices and a Cade Bush (Florida State) RBI single gave the Mohawks the three spot in the top of the 1st.
Austin Bode (Louisville) got the Dutchmen on the board in the bottom of the 1st with a fielder's choice, and Chance Checca (Herkimer) brought Albany within one.
Each team put up an unearned run in the 3rd frame to push the game to a 4-3 Amsterdam lead, and Amsterdam extended the lead to two on a Brett Coker (MTSU) single.
Albany tied the game in the 5th with a Ty Gallagher (Hobart) RBI single, and Zach Ranney (SNHU) was able to score from 2nd base on an error to tie the game up.
Brett Coker (MTSU) struck again in the 6th with a two-RBI single to cap off his four-hit, three-RBI night.
While the game was high scoring, there were no runs in the last third of the ballgame. Santosh Gottham (Brown) worked four shutout one-hit frames to preserve the Mohawks lead, while Scott Griesemer (UNF) and Aidan O'Connor (STAC) combined for 3.2 shutout innings with five punchouts to keep the Dutchmen in it.
Albany hits the road to Oneonta to take on the Outlaws for a 5:00 doubleheader on Friday.