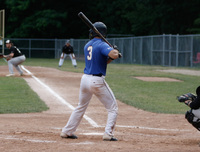 (LITTLE FALLS)-- It was a hard fought pitchers duel at Veterans Memorial Park Saturday night, but the Albany Dutchmen would end up losing a heartbreaker by a score of 2-1 in 10 innings to the hands of the Mohawk Valley DiamondDawgs.
With Zach Brush (Le Moyne), the extra innings base runner on second base, Pete Durocher (Manhattan) lined a triple into the left field corner to tie the game. An offline throw back into the infield allowed Durocher to round third and score, giving the DiamondDawgs the walk off win.
After Mohawk Valley opened the scoring with a sacrifice fly in the bottom of the first, Dutchmen starter Arlo Marynczak (Siena) was dominant. The lanky righty would end up going six innings, allowing six hits, one run, and one walk to go with the night's seven strikeouts. Andrew Cubberly (Quinnipiac) followed with a solid outing of his own, going three shutout innings, allowing just two hits and two walks with his four strikeouts.
Albany would get their first run of the night in the fifth. Austin Bode (Louisville) led off the inning with a hard hit double, and after moving to third on an error on a pickoff attempt, came across on the Chance Checca (Herkimer) RBI single.
Both teams would go fairly quietly until the bottom of the ninth, when Mohawk Valley would put the winning run on third in the form of Ernesto Polanco (Charleston Southern) with two outs. Cubberly would respond in a big way, getting Zach Brush (Le Moyne) to fly out to Zach Ranney (Southern New Hampshire) in center and send the game to extras.
The Dutchmen would take the lead in the top of the tenth, as Ranney, on second to begin the inning as the extra innings baserunner, would quickly to move up to third on a passed ball, and would score later in the inning on his Southern New Hampshire teammate's Nick Schwartz single into center.
That lead would not last long, as Durocher led off the bottom half of the inning and served the fatal blow to the Dutchmen.
Albany has Sunday off, before returning to action on Monday when they host the Oneonta Outlaws for the final time in the 2022 season. First pitch at Dutchmen Field is set for 6:35.