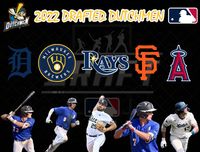 (ALBANY, NY)-- Albany Dutchmen are thrilled to announce the former Dutchmen selected in the 2022 MLB Draft. Congratulations to '19 Luke Gold (Boston College), '19 Ben Metzinger (Louisville), '17 Roel Garcia (Rice), '19 Justin Bench (Ole Miss) and '19 Luke Franzoni (Xavier).
Ballston Spa native Luke Gold was a 5th round selection by the Detroit Tigers after three stellar years at Boston College. A two-time Suburban Council Player of the Year under Curtis Nobles at Ballston Spa, Gold would go on to start all 15 games in a COVID shortened freshman campaign, followed by back-to-back All-ACC seasons as a sophomore in 2021 and junior in 2022. Gold's 2022 season featured 21 doubles, a .308 average, nine home runs, and 37 RBIs. Gold came to the Dutchmen in 2019, fresh off his State Championship run with Ballston Spa. The infielder carried a .306 average with two doubles, two home runs and seven RBIs in the summer, as well as gaining some valuable experience before his freshman year at Boston College.
Ben Metzinger was also a Day Two pick, as the Milwaukee Brewers grabbed the Louisville product in the 7th round. Metzinger had a breakout senior season at Louisville, starting all 64 games with a .312 average, 19 home runs, 69 RBIs en route to being an All-ACC Third Team selection. Metzinger started two games as a freshman in 2019 at Louisville, but proved he could be an everyday player in his summer in the Capital Region to the tune of a .295 average, seven doubles, two home runs, and 12 RBIs across 31 games. The Louisville native also displayed early signs of playoff presence, going 4-12 across three Dutchmen playoff games in 2019, before being named to the 2021 All-ACC Tournament Team and 2022 All-NCAA Louisville Regional Team.
The oldest of the bunch, Roel Garcia had quite the journey in six years at Rice before being selected by the Tampa Bay Rays in the 14th round of the 2022 MLB Draft. The Texas native saw plenty of game action as a sophomore in 2018, throwing 52 innings across 11 starts with a 5.02 ERA before he missed 2019 and most of 2020 with an injury. 2022 saw Garcia post a 4.73 ERA with 50 strikeouts across 45.2 innings. Over the course of his career at Rice, Garcia saw plenty of success out of the bullpen, a role he was comfortable with in Albany in 2017. Garcia made seven outings that summer, all out of the bullpen, posting a 4.09 ERA and 14 strikeouts through 11 innings.
The theme of 2019 Albany Dutchmen picked back up in the 17th round, as Justin Bench was picked by the San Francisco Giants. The Florida native was a staple at Ole Miss in both his upperclassmen seasons, the second of which ended with a national championship. As a junior in 2021, Bench started in 65 games with a .307 batting average, seven doubles, seven home runs, and 39 RBIs en route to being a Second Team All-SEC selection. In 2022, Bench posted the highest batting average on the Rebels at a .316 mark, while racking up a career best 42 RBIs, and putting a national title on his resume in Omaha. The 2019 Albany Dutchmen Player of the Year, Bench's .321 batting average, four home runs, and 17 RBIs were an early indication of the success to come in his next full season at Ole Miss.
The fifth and final Dutchmen to be selected in the 2022 MLB Draft came in the 19th round, as the Los Angeles Angels selected '19 Luke Franzoni. Franzoni's bread and butter in 2022 was the long ball, as his 29 home runs ranked him second in the NCAA, and led him to Big East Player of the Year honors. The New Jersey native carried a .358 batting average, 1.314 OPS, 78 RBIs, and the aforementioned 29 home runs which all led Xavier this season. Franzoni showed immediate potential at Xavier, with 32 starts and a team leading 11 home runs as a freshman. Fresh off a busy freshman school ball season, Franzoni batted .208 with 10 doubles, a home run and 12 RBIs across 35 games in Albany in 2019.
The Albany Dutchmen would like to again congratulate all five of the former Dutchmen on this massive accomplishment, and wish them the best of luck in their professional baseball journeys.