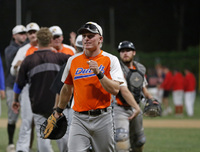 (GLENS FALLS, NY)-- Albany Dutchmen won their 7th game of the season against Glens Falls Dragons after a 7-5 win at East Field on Tuesday night. Albany won the season series 7-1 as the two teams have now faced off for the last time in 2022.
Albany got out to a 3-0 lead through three innings, as Hunter Sabbers (Marist) dealt three hitless frames and shined in the first third of the ballgame. A bases loaded walk put the Dutchmen on the board in the 2nd, before Anthony Raimo Jr. (Rhode Island) singled in a run to kickstart his three-hit night and Matt Bergevin (Fairfield) tacked on a sacrifice fly for Albany in the 3rd frame to make it 3-0.
Each team put up a run in the 4th as a Caden Shapiro (Princeton) double put him in scoring position followed by a Nick Schwartz (SNHU) RBI single to extend the Albany lead to four runs. Glens Falls answered back in the home half as the Dragons put up their first hit and their first run of the night in the same frame.
Glens Falls took a 5-4 lead as the Dragons loaded the bases with one out in the 5th, which forced Albany to go to the bullpen. The Dragons took advantage of the bases loaded situation that the bullpen inherited, as well as Dutchmen defensive mishaps, as three of the four runs in the frame were unearned.
An immediate answer came from the Dutchmen side in the top of the 6th, as Albany catapulted a three run frame courtesy of a plethora of Glens Falls errors.
Albany's bullpen arms of Scott Griesemer (UNF) and Billy Fitzgerald (Fairfield) were dominant, as they combined for 4.2 innings with 10 punchouts and zero earned runs.
Albany is now 2-0 on the week with four games remaining, and 1.5 games behind Oneonta for a playoff spot. The Dutchmen return to Keenholts Park for the final home game of the regular season on Wednesday at 6:35 against Amsterdam.