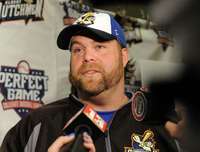 (ALBANY, NY)-- The Albany Dutchmen would like to congratulate Head Coach Nick Davey on his tenure with the Dutchmen, and formally announce the longtime manager's retirement.
Nick Davey has been a staple of the Albany Dutchmen for over a decade, as his career with the Dutchmen has spanned 13 seasons and seen an abundance of success en route to 280+ wins. College baseball players from across the country have come to Albany to play for the Dutchmen, and always leave in a better position than they came both on and off the field, largely in part to Coach Davey.
Coach Davey's impact has not only been felt by players, but also by fans, interns, campers, front office members, and the Capital Region community. Davey's dependability, accountability, and knowledge for the game is obvious to anyone that observes him away from the field, as well as before, during and after a game.
"There are truly no words that could overstate the importance of Coach Davey's time with the Dutchmen and the impact he's had on so many people over the years, both on and off the field. His leadership, commitment, dependability, and pure love for all things Dutchmen have been cherished over the years and this program would not be where it is today without Nick," said General Manager Jason Brinkman.
Over 450 players have been coached by Nick Davey in Albany, and have developed their baseball skills immensely in the Capital Region. 45 former Dutchmen have been selected in the MLB Draft and that 10% rate reflects Davey's teaching of the game, as well as the opportunities that players get in a Dutchmen uniform.
The Albany Dutchmen would once again like to thank Coach Davey for his commitment and dedication to the franchise, players, community and the game of baseball. We wish Coach Davey best of luck in his newest coaching venture; both of his sons' baseball teams.