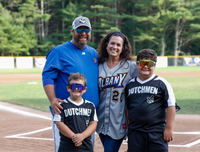 (ALBANY, NY)-- Albany Dutchmen received the highest attendance of the year Wednesday night, as the franchise celebrated the final regular season home game, which marked the final home game for Head Coach Nick Davey, who will be retiring after the 2022 season. However, Albany drew a tough matchup in the game, going against the PGCBL's top team, Amsterdam Mohawks, who would pick up their 37th win of the summer after an 8-5 victory against Albany.
Amsterdam immediately put up two runs in the top of the 1st as Zach Gardiner (Marshall) singled in a run, and a two-out error allowed the second run across.
Both teams put up runs in the 2nd, Amsterdam extended the lead on a fielder's choice before a throwing error and a Ty Gallagher (Herkimer) cut the deficit back down to one run.
Amsterdam outscored Albany 2-1 in both the 4th and 6th innings, as the Mohawks extended their lead to 7-4. Albany's two RBIs came off the bat of Anthony Raimo Jr. (St. Bonaventure), one being a single while the other resulted in a fielder's choice. Amsterdam's 4th inning came with a two-out rally, as the Mohawks went double and a pair of singles, with help from an error, and the 6th frame runs came off a double from Ian Perutz (Maryland).
Each team put up a run in the 7th, Amsterdam plated one on a fielder's choice, while David Silva Jr. (Ohio Dominican) scorched an RBI double to keep the Dutchmen within three runs, but the three run cushion would be enough as Amsterdam took the game 8-5.
Albany now sits two games out of the playoffs, just behind Oneonta, with a massive doubleheader scheduled at Oneonta tomorrow, the Dutchmen can still find their way into August.