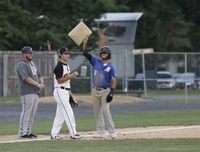 (ALBANY, NY)-- A summer of speed accumulated into a record setting night in Oneonta on Thursday as David Silva Jr. (Ohio Dominican) set the PGCBL record with his 41st stolen base, and would not stop until he set the bar at 43.
The previous record of 40 was set by '19 Chris Seng (Louisville), as now the only two players to swipe 40 bags in PGCBL history are both Albany Dutchmen.
Silva Jr. knew he had a chance at the record all summer long. The Ohio native got off to a hot start with 10 stolen bases in the first 10 days, and touted 24 at the turn of the calendar into July.
"It felt amazing, I was feeling the pressure and trying not to worry about it," Silva Jr. said.
The all-star played in 41 games this summer, stole at least one base in 22 of those, had multiple stolen bases in 14 games, and racked his single game high of 4 on two occasions.
In addition to his success on the basepaths, Silva Jr.'s .289 average and .401 OBP each ranked top three on the team.
"You can't steal if you don't get on base, I was trying to get on in any way I could and then just let my speed do the talking," Silva Jr. said.
The Albany Dutchmen would once again like to congratulate David Silva Jr. on his record setting season.