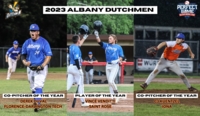 (ALBANY, NY)-- The Albany Dutchmen are proud to name Vince Venditti (St. Rose) the 2023 Albany Dutchmen Player of the Year, and CJ Kuentzel (Iona) and Derek Duval (Florence-Darlington Tech) the 2023 Albany Dutchmen Co-Pitchers of the Year.
"Vince, CJ, and Derek- they were stabilizers for us this summer," Dutchmen Head Coach Jordan Bernacet said. "They were there from the first day to the last, and every time they went out and succeeded, it got the rest of the team fired up."
Venditti was a consistent force in the top third of the Dutchmen lineup throughout the summer, leading the way in four categories as a quadruple-30 player- 30 hits, 31 walks, 30 stolen bases, and 33 runs- in a team-high 37 games played. He also powered a team-high three home runs, and among qualifiers, led with a .297 average, .440 on-base percentage, and .455 slugging percentage.
"This summer went really well," Venditti said. "I'm really humbled to have the numbers I did. I was fortunate to be with the Dutchmen this summer, and be a part of an environment where it was really easy to show up everyday, have a good time, and just play.
"That environment allowed me to relax and not play with too much pressure on myself. I could just execute and play the way I did."
But his biggest contribution Venditti brought to the team isn't something that can be statistically measured, according to Bernacet.
"Vinny just brought a lot of stability," Bernacet said. "He was a catalyst for us in a lot of games. When Vinny got going, everybody was like 'Alright, here we go, let's get things moving.' The train's rolling and not many people are gonna stop it."
The Burnt Hills native kicked his summer off in a big way with two home runs, seven runs batted in, and seven stolen bases in the first four games that earned him Dutchmen Week #1 Spotlight Player of the Week honors. That included a 2-for-4 game with a home run, four runs batted in, three runs scored, a double, a walk, and four stolen bases- all in six innings- in the home opening 13-1 victory over Watertown.
"To start off the summer that way- that fires guys up," Bernacet commented. "Especially with a group of guys that came from all over the country, who may not know what they're getting out of their teammates. But to have a guy right away be the fire starter, that's huge. It sets the tone for the rest of the summer."
He finished the regular season with a .348 average and 12 runs scored in the final two and a half weeks of the regular season that helped get the Dutchmen into the playoffs. He reached base safely in 31 of the 36 games he appeared at the plate during the campaign, which allowed him to score at least one run in 23 of those contests.
Even with such a successful summer between the lines, the biggest takeaway for the Saint Rose Golden Knight came off the field.
"My teammates made it really easy to show up everyday and have a good time and play," Venditti complimented. "We got to bond and have a good time while focusing and competing at the task at hand, and I hope to bring that into school ball and build off that for our program."
After an admittedly rough Opening Night appearance against Amsterdam, Kuentzel would be shut down- literally. The CBA product would go on to throw 20.1 innings across six appearances the rest of the regular season and would not allow an earned run, pitching to a 3-0 record with a 2.02 ERA across the team's third-most 22.1 innings.
"CJ consistently went out and gave us good outings," Bernacet commented on the lefty. "To have a starting pitcher that gives you quality innings and quality outings time after time, it gives the offense the freedom to place loose and allows your team to put together quality games."
Kuentzel's scoreless streak began with a relief appearance at home against Boonville June 10th before the lefty turned things up his next time out, throwing five innings of one-hit ball with six strikeouts at Glens Falls in his first start of the summer.
"Getting my first start felt just like another day at the office," Kuentzel tipped, relying on his experience starting since he was young. "I went up to Glens Falls, had my routine, stuck to what I knew, and it was successful."
The lone unearned run Kuentzel would allow the rest of the way came in his next start, a rain-shortened outing at Utica, before a clean inning out of the bullpen July 12 against Saugerties paved the way to his two final- and arguably best- starts. The lefty would get the ball three days later in the first game of the Dutchmen's mid-July four-game road trip, and would throw a season-best six innings, allowing just two weak singles and two walks while striking out four to kick off what would turn out to be a perfect 4-0 trip. His seven shutout innings with a miniscule 0.57 WHIP earned him a Dutchmen Week Seven Co-Player of the Week nomination (alongside JT Vance, Mississippi College), and the PGCBL East Division Co-Pitcher of the Week (Eli Snelson, Boonville).
"I was excited to go into that Saugerties game and pitch in front of the large crowd with all the people out to support," Kuentzel said, referring to the 10U Cal Ripken Mid-Atlantic Regional teams the Dutchmen hosted at the game and recognized throughout the evening. "And then a six inning start later that week… it was fun just to be out there and compete."
He would go on to strikeout a season-best eight across another five shutout innings in Glens Falls six days in his final start of the summer, picking up another Dutchmen Co-Player of the Week selection (Will Binder, UAlbany).
"CJ was gritty, he was fiery, and he was competitive, every time out," Bernacet answered when asked about Kuentzel, seemingly getting a boost of energy himself when responding. "I think every good pitching staff needs guys like that, and CJ brought those components to our staff."
That enjoyment Kuentzel relished playing for the Dutchmen is something the Colonie local looks to take into the fall at Iona.
"This season I just wanted to go out there with my friends and have some fun. That allowed me to have success, so I hope to keep that rolling into school ball."
A solid 3.50 ERA in a team-high 25.2 innings and the ability and trust from Coach Bernacet and his staff to be used in a number of different roles earned Duval the Co-Pitcher of the Year honors alongside Kuentzel.
"It's an honor to be selected as the Dutchmen's Co-Pitcher of the Year," Duval said. "I couldn't do this without my teammates, my defense behind me, and the rest of our pitching staff. There are multiple guys I believe that could have won Pitcher of the Year."
"Derek was simply a workhorse," Bernacet commended. "You knew he was going to give you everything- and then some- every time he took the ball. He's a guy you knew you're going to give him the ball, you know you're going to get a good outing. He's going to keep you in every game and keep throwing competitive pitches."
Duval's summer began with the biggest of honors, getting the ball to start Opening Night. After three solid innings where he allowed just one run against the defending champion Mohawks, Duval would etch his name into the Dutchmen record books his next time out. The Rotterdam Junction native tied a Dutchmen single-game record 13 strikeouts against Boonville June 10th, a number that hadn't been equaled in almost 12 years (Justin Brantley, July 28th, 2011 vs. Newark).
"My stuff worked very well," Duval reflected. "My offspeed pitches were very good, and I felt my fastball was heavy through the zone. I did a good job of keeping guys off balance and trusting the defense behind me, and I just tried to go out there and do my job. It's a pretty cool feeling to be able to add my name to the Dutchmen record book."
"I wish I knew what the record was beforehand… I probably wouldn't have taken him out when I did," Bernacet laughed. "He was just unbelievable that night. He had everything working, but I remember specifically his changeup was incredible. It looked like it was just rolling off his finger like a yo-yo."
Duval would then sandwich his first Dutchmen bullpen appearance between two solid starts. The righty would go six innings- his longest outing of the summer- June 19th against Saugerties, allowing just three runs, before striking out seven in five shutout innings against Glens Falls July 6th.
He would be shifted to a bullpen role after that, playing a pivotal role in two of the Dutchmen's biggest wins all summer. His first appearance came July 16th in Mohawk Valley, pitching scoreless fourth and fifth innings to preserve the lead from starter Jacob Maurer (Lafayette) to the back end of the Albany bullpen that would lead to a victory over the then second place DiamondDawgs. Duval would then be called on to close out the combined one-hitter against the first place Mohawks July 20th, allowing a one-out walk before turning a double play to give the Dutchmen another big triumph in the hunt for the playoffs.
"I love going in and closing games," Duval mentioned about getting the final outs against Amsterdam. "Just having the mentality in your mind that you got to go in and get three outs, empty the tank, it's a lot different from being a starter where you're trying to save energy and go the distance. I loved coming out of the bullpen."
The Dutchmen would again like to congratulate Vince Venditti (St. Rose), CJ Kuentzel (Iona), and Derek Duval (Florence-Darlington Tech) on their tremendous summers and their selections as the 2023 Albany Dutchmen Player and Co-Pitchers of the Year.