By: Dutchmen Front Office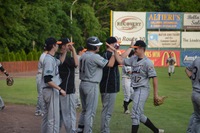 Amsterdam, New York: Despite allowing three runs in the bottom of the 8th, the Dutchmen (3-0) escape Amsterdam (1-3) with a 6-5 win.

The scoring started in the top of the 2nd when Tyler Orris (Millersville College) was safe at home following a wild pitch. Then, Dutchmen first basemen Matt Dacey (University of Michigan) hit a home run in the top half of the third inning giving Albany a 2-0 lead.

The Mohawks answered with one run in both the third and fourth innings.

The game was tied 2-2 after four innings, but the Albany Dutchmen offense stepped up and scored two runs apiece in the 5th and 6th innings. Lukas Nethaway (College of Saint Rose) smacked a two-run double in the top of the 5th to give the Dutchmen the lead for good.

Zach Remillard (Coastal Carolina) provided some much needed insurance with a two-run double of his own in the 6th inning.

The Amsterdam Mohawks were resilient in defeat, scoring three runs in the bottom of the 8th to cut their deficit to just one run. Ben Seabrook (Univ of North Alabama) put an end to the rally with a four out save, his second of the season.

The Dutchmen look to continue their winning ways on Thursday night at Bellizzi Field against the Glens Falls Golden Eagles. First pitch is 7:05PM, and it is also ALL YOU CAN EAT NIGHT for $10.

For the latest information on the Albany Dutchmen, visit www.dutchmenbaseball.com. Follow us on Twitter @DutchmenPGCBL and "Like" Albany Dutchmen on Facebook.
|
Back to index...