By: Dutchmen Front Office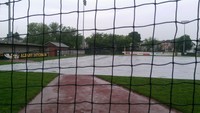 Thursday's game between Albany and Glens Falls at Bob Bellizzi Field in Albany has been postponed due to rain. The rain out marks the fifth Dutchmen game (third at home) postponed due to rain in the first nine days of the 2013 PGCBL season.
The most recent stormy weather that started early Thursday morning is expected to drop 1-2 inches of rain by the time the storm passes early Friday morning.
The Dutchmen look to add to their undefeated mark of 3-0 as they travel to Glens Falls (2-2) on Friday night. Albany will be back at home at Bob Bellizzi Field on Saturday to take on the Watertown Rams at 7:05PM. There will be a Father's Day Celebration and Baseball Bingo where fans will have the chance to win a trip from Yankee Trails and other great prizes!
|
Back to index...