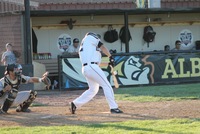 The Albany Dutchmen (6-1) have been ranked #9 in the nation by Perfect Game USA's first Summer Collegiate Team Rankings following a franchise-best 6-1 start.
Albany's #9 ranking puts them above seven of the ten teams in the Cape Cod Baseball League, and is the first time in franchise history the Dutchmen, leaders of the Perfect Game Collegiate Baseball League, have been ranked nationally.
"It's a great achievement for our program," fourth-year head coach Nick Davey said. "It's where we want to get to, it's what we hope to be as a mainstay for not only the first ranking but rankings throughout the year."
Davey attributes the early season success to pitching and defense, as the Dutchmen lead the PGCBL with a 2.17 overall ERA.
"It's been our signature the first five games," Davey said. "We've been getting great pitching, which is what we stress. That's our strength as of right now. I think once our offense gets going we're going to be OK, but right now our pitching is carrying us."
In his fourth season with the Dutchmen, Davey's teams have won more games than the previous season in each of his first three years. A 5-1 start by the 2013 group is good enough for the best start in franchise history.
"This is a different group that we've had," Davey said. "This group, in a short time, has become very close and competes at a very high level. I love the chemistry we have on this team."
Starting pitcher Sean Spicer (Baylor) has led the Dutchmen on the mound, posting a 1-0 record with a 1.50 ERA, while closer Ben Seabrook (North Alabama) has been dominant out of the bullpen with three saves in three appearances. Offensively Albany has been paced by shortstop Tyler Orris (Millersville). Orris leads the PGCBL with a .526 batting average through five games. The Dutchmen are also still waiting for the arrival of outfielder Derrick Armstrong (Mississippi State) who is still playing with Mississippi State in the College World Series.
Albany travels to Cooperstown for a game Wednesday night before returning home to Bob Bellizzi field for home games Thursday and Friday night. The Dutchmen will finish their Opening Night game with the Amsterdam Mohawks (4-6) that was suspended in the 8th inning starting at 6PM on Thursday, before playing the regularly scheduled 9-inning game at 7:05PM. Albany hosts the Mohawk Valley DiamondDawgs (5-5) on Friday night, with first pitch also at 7:05PM.