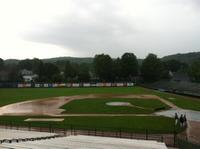 COOPERSTOWN, NY – The game between the Albany Dutchmen (11-6) and Cooperstown Hawkeyes (9-7) was held up by mother nature Sunday, as rain soaked Doubleday Field in Cooperstown and suspended the contest in the 4th inning. The Hawkeyes led the Dutchmen 3-1 before the game was called.
The game started off well for the Dutchmen, who nearly scored in the top of the 1st. Anthony Marks (Coastal Carolina) got on base to start the inning and advanced all the way to 3rd. With two outs, his Chanticleer teammate Zach Remillard (Coastal Carolina) stepped up, but was bested by Hawkeyes pitcher Eann Cox (Black Hawk College), who struck him out.
Cox went head-to-head with Dutchmen starter Bryan Carr (St. Rose), who pitched well in the rain-shortened contest. He tossed two scoreless innings before giving up a trio of runs in the bottom of the 3rd. Austin March (UC Davis) smacked a two-run double to give Cooperstown a 2-0 lead, and then Ben Hall (Central Alabama) gave Albany déjà vu. Hall hit another double, allowing March to score, and gave the Hawkeyes a 3-0 lead.
The Dutchmen wouldn't go quietly, however, as the rain started to fall in Cooperstown. Joe Purritano (Dartmouth) drew a one out walk to start things going in the 4th, Zach Remillard followed with an infield single, and Jack Wietlispach (Niagara) walked to load the bases. Brian Ruhm (UC Davis) then reached on an error and Wietlispach came home to score, cutting the lead to 3-1.
Albany wouldn't score after that in the top of the 4th, and during the inning break the umpires put the game into a rain delay at 6:01 PM. Less than an hour later, the game was called and officially suspended. The two teams will finish up this contest on Friday, July 19th, which is the next time Albany visits Cooperstown.
Cooperstown pitcher Eann Cox was the stand-out performer on the rainy Sunday afternoon. From the 1st to 4th, Cox struck out eight consecutive Dutchmen batters.
The Dutchmen return home tomorrow for a Monday evening contest against the Glens Falls Golden Eagles (13-8) at 7:05 at Bob Bellizzi Field in Albany. It's "Kids Eat Free Night," so all kids that buy a ticket to the game get to eat for free!