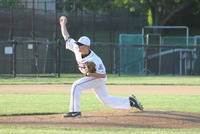 Jimmy Davitt (Bryant) is a starting pitcher for the nationally-ranked Albany Dutchmen. Davitt, a reliever in the spring as a freshman at Northeast Conference champion Bryant, made his second start of the summer on Saturday night against the Glens Falls Golden Eagles at East Field.
In a game that was not decided until the bottom of the 16th, Davitt worked seven strong innings and held the Golden Eagles to one run on two hits; he walked one and struck out two. Davitt did not allow a hit until the fourth inning and he carried a shutout into the fifth with the Dutchmen leading, 2-0.
The rising sophomore from Bryant allowed just three Golden Eagles to safely advance past first base. The 18-year-old faced three men over the minimum and just once opposed more than four batters in a single inning. Davitt seated 11 of the final 12 men he faced and left with a 2-1 lead.
The Wallingford, Conn., native is the third Albany pitcher in three years to be named PGCBL Pitcher of the Week.