By: Dutchmen Front Office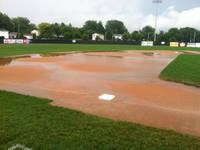 A quick burst of heavy rain and unplayable field conditions caused another Dutchmen game to be postponed this season. The Dutchmen will make up the game against the Amsterdam Mohawks with a double header on Saturday, July 20th.
The Dutchmen are on the road Thursday against these same Mohawks at 6:00PM.
Albany returns to Bellizzi Field on Friday against the Glens Falls Golden Eagles. Friday is a DOUBLE HEADER, with the first pitch at 5:05PM. Friday is also Phillips Hardware Night, with over $500 in prize giveaways! It is also Chamber of Commerce Night. There will be a mixer at 6:00PM for any member of the Chamber in the Capital District!
|
Back to index...