By: Dutchmen Front Office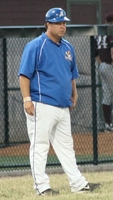 The Albany Dutchmen are pleased to announce that Nick Davey will return as Head Coach for the 2014 season. It will be Davey's 5th year at the helm. Davey, the 2013 PGCBL Coach of the Year, led the Dutchmen to a franchise-record 26 regular season wins and a spot in the PGCBL playoffs. The Dutchmen advanced to the PGCBL East Division Finals.

"We are thrilled to have Nick coming back for his 5th season with the Dutchmen," said Dutchmen Vice President and General Manager Jason Brinkman. "He has done a great job year after year and we look forward to the continued leadership and success he brings to this organization."
Dutchmen owner Paul Samulski added, "Coming off a strong 2013 campaign, which featured our first ever post season appearance, we had many things on our To-Do list for 2014, but retaining Coach Davey was #1.
We truly respect his passion for the game and continue to be impressed by the way he works."

After a 9-1 start to the 2013 season, the Dutchmen were recognized by Perfect Game USA as the #9 ranked team in the country.

The team not only started the season well, but the Dutchmen also knew how to win close games all summer long; 13 of their 26 regular season wins were decided by one run and both playoff victories came by a single tally.

"I am really excited. After a season we had with a tremendous start and ending in great fashion with a lot of heroics, it was fun. I am really looking forward to coming back," Davey said.

Davey also mentioned he would like to see the momentum carry over to 2014.

"You just keep tweaking what you normally do," he proclaimed. "You stick to your basics like what we do every day, getting guys here for early work and making them better as a player and buying into the team aspect."

Davey hopes to see the players coming in next summer realize the high expectation level that is set, especially after an outstanding 2013.

And there is plenty of reason for Dutchmen fans to be optimistic heading into 2014, as the team has increased their win total every single season under Coach Davey's tutelage.

Welcome back Coach Davey!
|
Back to index...