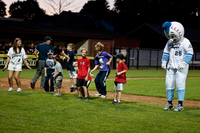 The Albany Dutchmen are looking for self-motivated and energetic individuals to join our internship program for the 2014 season. An internship with the Dutchmen is the perfect opportunity for those interested in Sport Marketing, Sport Management, Journalism, and Food & Beverage Hospitality to gain invaluable experience in the industry. Plus, you can receive college credit!

We offer a wide variety of internships, including front office and game day operations, broadcasting and media relations, public address announcing, on-field personality, and concessions manager. Our interns are also heavily involved in the Capital Region with community relations and other special events.

Previous interns have gone on to work for the Boston Red Sox, NewsChannel 13, WGGB/Fox 6 in Western Massachusetts, New England Sports Network, and the Albany Devils, just to name a few places.

Here are a few of testimonials from former Dutchmen interns:
Sarah Helm interned with the Dutchmen in 2011 & 2012 as the team's On-Field Personality. She received an undergraduate degree in Sport Management from SUNY Cortland in 2010 and an MBA in Sport Business from Saint Leo University in 2013. Sarah currently works for the Boston Red Sox and Boston Bruins as a Sales Assistant.
"Working with the Albany Dutchmen was truly an amazing experience. I was in charge of creating and executing all on-field promotions. I also assisted in organizing charity events and fundraisers at home games. Through the internship, I learned how to think quickly on my feet and interact with a wide array of people. I know that if I did not intern with the Dutchmen I would have never gotten my current job as a Sales Assistant with the Boston Red Sox and the Boston Bruins. I highly recommend interning with the Dutchmen." - Sarah Helm
James Troutman interned with the Dutchmen in 2013 as the team's Community Outreach Coordinator. James is currently pursuing a degree in Sport Management for St. John Fisher College and will be graduating in May. James has been hired as the Assistant General Manager for the Dutchmen for the upcoming season.

"Being an intern with the Dutchmen provided me with opportunities that I probably wouldn't have had with any other baseball team. The Dutchmen allowed me to take on as much responsibility as I wanted, and that was great because I made the most of every situation. I contacted Little League teams and had them take part in the Dutchmen's Baseball Buddies program, conducted on-field promotions in between innings, and scheduled community service events for the players to attend. I highly recommend this internship to someone who is either trying to get their feet wet and get a foot in the door or for someone who wishes to continue to build their resume." - James Troutman
Becca Campbell interned with the Dutchmen in 2012 & 2013 and will be graduating for St. John Fisher College in May with a degree in Sport Management.
"Interning with the Albany Dutchmen was a great experience that really prepared me to work in the Sports Industry. I had the chance to sell merchandise, tickets, and helped organize the Pink Game, one of the biggest games of the season that benefited the Susan G. Komen Foundation and American Cancer Society. These opportunities helped me realize my potential in this competitive field." - Becca Campbell
Billy Blake interned with the Dutchmen as a Broadcaster for 3 years before becoming the Dutchmen's Assistant General Manager in 2013. Billy graduated from SUNY Oneonta in 2013 with a degree in Mass Communication/Production. Billy currently works for The College of Saint Rose as the Athletics Communications Assistant/Broadcaster. He also moonlights for the news department for NBC affiliate WNYT in Albany, NY.

"My internship with the Albany Dutchmen was a rewarding experience. I learned a great deal in all parts of the sports industry. Whether it was broadcasting, public relations, or working with corporate sponsors, I quickly learned that the harder you work, the more you will get out of all the opportunities in front of you. A night at the ballpark can fly by because there is so much more going on than just the game itself, but it's that fast-paced aspect of the internship that has prepared me for a future working in sports."
For more information regarding specific internships, please click here. If you have further questions or would like to apply for an internship, please contact Dutchmen Vice President and General Manager Jason Brinkman at [email protected].