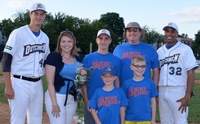 May 1st, 2014
Every summer, some of the best collegiate baseball players from all over the country make their way to Albany to play for the Albany Dutchmen and pursue their dream of playing in Major League Baseball. For many of these elite athletes, this is their first trip to the Capital Region and it may feel like strange and unknown territory to them. In order to better make the adjustment of living in a new place, all of the players live with host families throughout the Capital District.

"Host families are an integral part of summer baseball and the overall experience that the players have," says Dutchmen General Manager, Jason Brinkman. "We are extremely fortunate to have all of the great host families that we do. We constantly hear from both the players and the host families what a great experience they are having."

Due to a league wide increase in roster size, a need has surfaced to find more host families. Brinkman explained, "We have a fantastic group of core host families that love hosting players every year. This year, we are in need of additional host families to accommodate some of the extra players we have coming in."

As the Dutchmen begin their sixth season of play in the City of Albany, they are looking for approximately five more host families for the upcoming summer months of June and July. All that being a host family requires is a place for a player to sleep and store their belongings, as well as providing an occasional meal. In return, all host families receive free season tickets, invitations to special events, host family t-shirts, free admission for their children to Dutchmen summer baseball camp, and the opportunity house a potential future major leaguer.

The experience of hosting a player is unique and something that has left a lasting impression on more than one local family. "It's so rewarding to welcome the guys into our home," says Donna Cole-Paul, a host family Mom for the past four summers and returning for a fifth. "We enjoy all the time together and continue to keep in touch even after the season is over. The players get along great with our kids and their ability to form special bonds with them is thrilling to see as a parent."

Although having children is not a requirement, for those host families with kids, the bond is extra special. Host Family Coordinator, Amy Steward, has two boys of her own. "The neatest part of hosting is seeing the relationships that are built between our 10 and 13 year olds with the players. We love hosting and look forward to the summer every year," says Steward. Steward and her family are going on their fourth season of hosting Dutchmen players. "We have really enjoyed our experience and meeting players and their families from all over the country," says Steward.

The Silvestri Family has been a part of the Host Family Program for three years. "We love being a host family," said Kaye Silvestri. "These young men really do become members of our family. Our young grandchildren really love having more 'uncles' to cheer for. The one love we all share is baseball, and that unites us from the beginning. The wisdom they share with our teenage baseball player is beyond what we could ever share with him."

If you or someone you know is interested in becoming a host family or receiving more information, please contact Host Family Coordinator Amy Steward at 518-258-7161 or [email protected].
More information can also be found by clicking here.