By: Dutchmen Front Office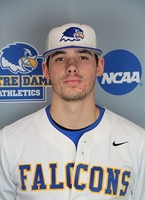 Mat 8th, 2014
Recently signed pitcher Jake Welch (Notre Dame College) was selected to the First-Team All Mountain East Conference.
The junior from Spencerport, NY finished the regular season with an outstanding 2.80 ERA and went 7-3 in eleven starts for the Falcons. His team-high 76 strikeouts placed him second in the conference and opposing teams hit just .192 against him. In addition, he tallied seven complete games, the second most in the MEC and thirteenth among the nation. From March 15-April 5, a span of four starts, he surrendered only two runs and struck out 18. He earned MEC Pitcher of the Week on March 24.
The Falcons play Concord in the opening round of the Mountain East Conference Tournament on May 8th.
|
Back to index...