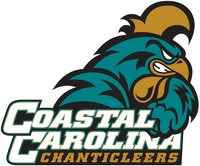 Good summer baseball teams are always made up of a delicate balance of composed experience and youthful exuberance. With that in mind, the Dutchmen added to that balance by signing battle-tested junior Reid Mathews (Coastal Carolina) and talented freshman Sean Aspinall (Azusa Pacific).



Mathews is in his first year at Coastal Carolina after transferring in from Walters State CC. The 6'0" 180 pound middle infielder was a standout at Dobyns-Bennett High School in Kingsport, Tennessee. He was a three-time all-conference pick and two-time Super 22 selection who was drafted as a second baseman by the Pittsburgh Pirates in the 35th Round of the 2011 MLB Draft. However, Mathews declined to sign and attended Walters State for his freshman season. He was named All-TCCAA, posting a .347 batting average with 24 doubles, four home runs and 54 RBI. His 54 RBI ranked 43rd (tied) in the nation. As a sophomore, he was also named All-TCCAA and All-Region 7 after batting .323 with 11 doubles, 10 home runs, and 53 RBI. His 10 home runs ranked 12th (tied) in the nation and his 53 RBI ranked 40th (tied). His performance helped Walters State to a 37-16 record, an appearance in the NJCAA World Series, and #7 NJCAA Division I rank. After red-shirting during this past season at Coastal, Mathews is ready to step in and make an immediate impact for the Dutchmen.

A 6'0" 190 pound outfielder from Upland, California, Sean Aspinall was a two-sport athlete, excelling on the diamond and the gridiron. A

s one of California's top kickers, Aspinall was named First-Team All-Baseline League and was a first-team punter in 2011. As an outfielder, he earned second team all-league recognition as a junior after batting .356 with three triples, four doubles, and 24 RBIs. He was also named team MVP and was honorable mention for the San Gabriel Valley Tribune all-area team, along with earning first team All-Baseline League honors. At Azusa Pacific, Aspinall slowly worked his way into a regular role, appearing in 27 games for the Crusaders. A few rough games at the end of the season dropped his average to .240, but he proved to be a patient hitter, earning a .313 on-base percentage, while also stealing six bases, and playing errorless defense. His strong defensive game and speed on the bases will make Aspinall a valuable contributor during the 2014 summer (although he'll have a battle on his hands with pitcher Spencer Hotaling to see who the team's best kicker is).