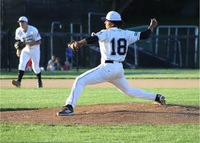 May 28th, 2014
The Dutchmen round out thier 2014 pitching staff by bringing back Dean College's Jose Hernandez, alongside talented freshman Steven Ghiardi from Millersville University and Kyle Zurak from Radford University.

After a hugely successful 2013 summer, community favorite Jose Hernandez returns to Albany and the Dutchmen. Jose was a tremendous asset to the Dutchmen staff, throwing 23.2 innings between the bullpen and starting rotation. In his versatile role, he registered a 1.90 ERA, striking out 22 batters, and registering a 3-1 record. During his current season at Dean College, the right-hander has been no less effective. He leads the team with three wins, striking out 59 batters in 56 innings, while compiling a 2.41 ERA. Willing to help in whatever way his team needs, Hernandez is a welcome return for the Dutchmen organization.

A 6'3" 190 pound right-hander from Crofton, Maryland, Ghiardi enjoyed a highly successful career at Arundel High School. He was named to the Under Armour and Baseball Factory Preseason All-America list in 2013, while also being selected All-Anne Arundel County Second Team in 2012 and first team in 2013. During his career, he went 10-4 with a 2.84 ERA and 142 strikeouts in 106 innings. Since arriving at Millersville, he enjoyed the same level of success. Splitting time between the bullpen and the rotation, Ghiardi has compiled a 2.13 ERA, while striking out over a batter per inning, and holding opponents to a miniscule .130 batting average against. No matter what role he occupies during the 2014 summer, it seems to reason that the transition will be a relatively successful one.

The final piece to the pitching puzzle will be Radford University right-hander Kyle Zurak. A 6'1" righty from East Amherst, NY, Zurak has been instantaneously effective for the Highlanders. On a 33 win team, Zurak carved out a bullpen start, throwing 17.2 innings over the season, allowing 17 hits, striking out 11, and limiting opposing hitters to a .260 batting average against. Appearing in 19 games, including games against regional teams Siena and Bryant, Zurak proved to be a valuable and reliable late inning reliever. His ability to deliver in pressurized situations will be something very valuable to the Dutchmen this summer.