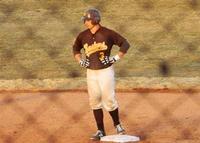 The Dutchmen organization is deeply saddened to report the sudden passing of 2014 shortstop Tyler Alitz. The Omaha, Nebraska native, who had signed a letter of intent to play at Morehead State University next year, had packed up and was traveling from school last week when he was involved in a fatal car accident. The 20-year-old was approximately three hours from home when his vehicle collided head-on with a vehicle pulling a trailer, headed in the opposite direction.
Alitz had played the last two seasons at Garden City Community College and was set to be the Dutchmen's starting shortstop for the 2014 summer. "Even though Tyler never suited up for us, he will always be a member of the Dutchmen family," explained owner Paul Samulski. "Our organization has had many conversations with him over the past year and we were all looking forward to meeting him when the players check in this upcoming weekend. He was extremely excited about the prospect of playing and contributing for the Dutchmen this summer. He seemed like a very genuine, respectful, and highly competitive young man, and our hearts go out to his family, friends, and teammates as they deal with this tragedy."
The Dutchmen will hold a moment of silence in Tyler's honor when the team takes the field for Opening Night on Wednesday, June 4th.