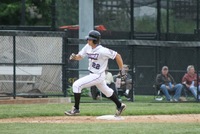 ALBANY- In a pitcher's duel between Albany's Spencer Hotaling (Susquehanna) and Newark's Andrew Sanders (Ithaca), it was Hotaling and the Dutchmen that came up with the decisive blow.
A two-run double off the bat of Josh Lee (Lipscomb) provided all the offense the Albany Dutchmen would need in a 2-0 victory over the Newark Pilots on Friday night at Bob Bellizzi Field.
Hotaling hurled a masterpiece, allowing just two hits — a third inning single from Braxton Wilks (Kansas State) and a fourth inning single from Louis Silverio (Florida International). The righty struck out five Newark hitters without walking any.
Hotaling said he was able to mix his pitches effectively to keep the Pilot hitters off balance.
"Early on, my fastball was working really well for me, and I was able to locate that and keep it low," Hotaling said. "As the game went on, I was able to get my changeup working for me, and then my slider was working at the end of the game."
Albany's lone runs came in the sixth inning. After the inning began with a groundout, Adam Lee (Lipscomb) singled. Then, leadoff hitter Will Miller (College of the Albemarle) added to his 3-for-4 day with an infield single on a high chopper up the middle. After a strikeout and a passed ball that advanced the runners to second and third, Lee drilled his double over the head of the center fielder to give Albany the only runs they would need.
Hotaling exited the game after seven brilliant innings, and Josh Ferry (Illinois) pitched the eighth inning, allowing a walk and a single, but forcing a pop-out to end the inning.
In the ninth, Tyler Fries (Wilmington) earned the save, striking out the final two hitters of the game after allowing two baserunners.
Sanders was charged with the tough-luck loss, allowing just the two runs on seven hits in a complete game. Both of the runs he surrendered were unearned due to the passed ball in the sixth.
The Dutchmen now embark on a two-game road trip, beginning with a battle against the Amsterdam Mohawks on Saturday. On Sunday, the Dutchmen face the Watertown Rams before heading home on Monday.