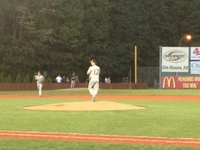 The Albany Dutchmen moved to 3-0 on the season with an extra inning come-from-behind victory, 3-2, over the Amsterdam Mohawks in 12 innings in front of 1702 fans at Shuttleworth Park. The win made the Dutchmen the final undefeated team in the Perfect Game Collegiate Baseball League.
Albany's winning runs began when Danny Hrbek drew a walk to lead the inning off. He advanced to second when Josh Lee (Lipscomb) laid down a bunt, and advanced to third base on a groundball from Nick Jewett (Trinity University).
Reid Matthews (Coastal Carolina) came up with the big hit, a single to center that scored Hrbek. After Matthews stole second, James Locklear (Rider) singled to score Matthews, but was thrown out at second base.
The Mohawks would put a run on the board in the bottom half of the inning, but could not push the second one across.
The Dutchmen trailed for the majority of the game, coming up with a clutch run in the top of the ninth inning to extend the game, ultimately leading to the 12th inning heroics.
Trailing 1-0 through eight, the Dutchmen rallied in the top of the ninth inning to tie the game. Pinch hitter Sean Aspinall crushed a double to deep center field to start the frame. He was followed by Dave Vaccaro (Radford), who laid down a perfect bunt single down the third base line. The score was tied on a fielder's choice off the bat of Will Miller (College of the Albemarle). A single from Hrbek put runners on first and second, but the next two hitters were retired to end the inning.
The Mohawks took the lead in the sixth inning, when Lucas Nethaway (St. Rose) doubled to center field to begin the inning. After a flyout and a balk, Nethaway scored on a groundout to the first baseman off the bat of Joey Aiola (Marist).
Albany pitcher Drew Tolson (Baylor) went eight strong innings, allowing just one run on three hits. Tolson, who received a no-decision, struck out four Amsterdam hitters.
The win for the Dutchmen was earned by Dylan McGee (Trinity University), who retired the final batter of the eleventh inning with a strikeout. The save was recorded by AJ Flores (Texas A&M Corpus Christi), who allowed a run in the 12th but maintained the two-run lead.
The Dutchmen will finish their two-game road trip on Sunday against the Watertown Rams, with first pitch scheduled for 5:05 p.m.