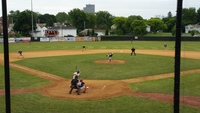 The Albany Dutchmen claimed their fifth consecutive win with a 5-3 victory over the Elmira Pioneers Monday night at Bob Bellizzi Field. The win moved the Dutchmen to 5-0 for the second consecutive season, one win away from equaling the 6-0 start of the 2013 campaign.
After two straight games of never leading until the game's final innings, the Dutchmen put two runs on the board in the bottom of the first inning, staking out to a lead they would not relinquish. The runs came via an RBI groundout off the bat of Nick Jewett (Trinity University) that brought Sean Aspinall (Azusa Pacific) home. The next hitter, Cameron Miller (Baylor) singled to score Josh Lee (Lipscomb) to give the Dutchmen a 2-0 lead. The Dutchmen nearly claimed a 3-0 lead, but Miller was thrown out at the plate trying to score on a single from Jake Hanson (Valparaiso).
Elmira would cut the lead to 2-1 in the fourth inning on a sacrifice fly from Chris Kalousidian (Manhattan), which brought Collin McGee (Cornell) home.
Jewett struck again in the bottom of the fifth, drilling a triple to deep center field and plating Aspinall to re-extend the Albany lead to 3-1. Jewett would double in his next at-bat, and was hit by a pitch in each of his last two at-bats. He ended his day 2-for-3 with two runs batted in.
Two more runs were tacked on in the bottom of the seventh. Hanson and Danny Hrbek (Radford) began the inning with singles, and came home on back-to-back fielder's choices from Adam Lee (Lipscomb) and Will Miller (College of the Albemarle).
Elmira would score two runs in the eighth inning, but Kyle Zurak (Radford) slammed the door shut in the ninth inning to earn his first save.
Kevin Landgrebe (Texas A&M Corpus Christi) earned the victory for the Dutchmen, tossing six innings and allowing just one unearned Elmira run on four hits. The Bay City, Texas native struck out six Pioneer hitters and surrendered just one walk.
Austin Goeke (Wagner) pitched the seventh and eighth innings for Albany, recording three strikeouts, although he allowed two runs.
The 5-0 Dutchmen head to Amsterdam to take on the Mohawks on Tuesday night. Albany returns to Bellizzi Field on Wednesday for the first part of a home-and-home with the Adirondack Trail Blazers. Wednesday night is Guaranteed Win Night in Albany, where fans will receive a free ticket to the next game if the Dutchmen cannot pick up the victory. It is also Web Wednesday, as promotions will be held on the Dutchmen's Twitter and Facebook pages.