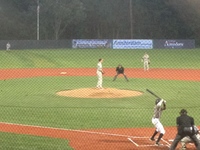 The Albany Dutchmen saw their five-game winning streak come to an end at Shuttleworth Park in Amsterdam on Tuesday night, falling to the Amsterdam Mohawks by a score of 6-1.
The loss was the first of the season for the Dutchmen, and the second straight victory for the Mohawks.
The game started about as well as possible for the Dutchmen, as Will Miller (College of the Albemarle) launched the first pitch of the game well over the left field wall to give Albany a 1-0 lead.
However, the Mohawks would score the game's final six runs, including two second-inning runs to take the lead, an edge Amsterdam would hold for the remainder of the game. In the second, Jack Czeszewski (Illinois State) doubled with two outs, bringing home two runs for a 2-1 Mohawks lead.
Amsterdam added two runs in the next inning, scoring on a fielding error off the bat of Luke Nethaway (St. Rose) and an RBI single from Connor Heady (Kentucky).
Czeszewski drove in his third run of the game in the bottom of the sixth inning on a double to left field. Czeszewski ended the game 2-for-3, with the two doubles driving in three runs.
The scoring concluded with two outs in the bottom of the seventh inning, when Blake Logan (Auburn) recorded his first hit of the season with an RBI single up the middle.
Earning the win for Amsterdam was EJ Ashworth (Fairfield), who allowed just the Miller home run and three singles over his six innings of work. John McCarren (Wake Forest) pitched the next two innings for the Mohawks, and Joe Randall (Fairfield) finished the game.
The loss was charged to Albany's Steve Ghiardi (Millersville), who allowed two earned runs over three innings. Austin Foote (Indiana) pitched four innings for the Dutchmen, and allowed just one earned run with three strikeouts. Nick DiLeo (Wagner) tossed the eighth inning for the Dutchmen, recording a scoreless, hitless frame.
The first-place Dutchmen return to Bob Bellizzi Field on Wednesday for a contest with the Adirondack Trail Blazers, the first half of a home-and-home. It is Guaranteed Win Night, where fans will receive free admission to Friday's game if the Dutchmen are unable to claim victory. The Dutchmen will also run promotions on Facebook and Twitter as part of Web Wednesday.