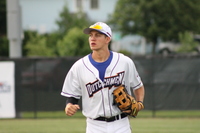 The Albany Dutchmen broke their five game losing streak on Sunday at Bob Bellizzi Field in Albany, topping the Mohawk Valley DiamondDawgs, 4-2.
The Dutchmen trailed through three innings for the sixth game in a row, surrendering a run to the DiamondDawgs in the third. Tyler Lau (Niagara) reached on an error to begin the inning, and promptly stole second base. Trey Stover (Hartford) singled to right field, moving Lau to third with nobody out. Colin Hawk (Cincinnati) hit a sacrifice fly to left to score the game's opening run.
The Dutchmen had an answer, evening the game in the bottom of the fifth. James Locklear (Rider) led off the inning with a single, and Jake Hanson (Valparaiso) followed with a hit of his own. Demetrius Webb (Indiana) tied the game with a single to center field, bringing Locklear to the plate.
Albany broke through in the sixth inning, scoring two runs to claim a lead they would never relinquish. The inning began with a single from Adam Lee (Lipscomb) and a walk to Danny Hrbek (Radford). After a sacrifice bunt from Nick Jewett (Trinity University) and the second out, Locklear ripped a single over the head of the Mohawk Valley shortstop for two runs, giving the Dutchmen a 3-1 lead.
The lead was cut to 3-2 in the top of the eighth inning, when a sacrifice fly from Justin Thomas (Rider) pushed a run across. Mike Kaelin (Buffalo) struck out the last hitter of the inning to protect the one-run lead.
An insurance run was tacked on in the bottom half of the inning by the Dutchmen. Adam Lee came inches from hitting the first home run in Albany, recording a leadoff double. He came in to score on an RBI groundout from Jewett.
Spencer Hotaling (Susquehanna) was brilliant again for Albany, working six innings without surrendering an earned run. The righty struck out three hitters, and earned his third win. Kevin Landgrebe worked 1.1 innings out of the bullpen, and Kyle Zurak (Radford) earned the save for tossing a scoreless, hitless ninth. The loss was charged to Michael DeCarlo (Herkimer CC)
The Dutchmen will have the day off on Monday, before heading to play the Utica Brewers on the road on Tuesday. Albany will return home on Wednesday to battle the Amsterdam Mohawks. It is Seniors Night and Web Wednesday at the ballpark.