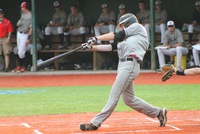 The Albany Dutchmen won their second game in a row, defeating the Utica Brewers in a rain-shortened seven-inning game, 5-2. Lightning struck at the beginning of the eighth inning, and heavy rain followed, leading to the calling of the game.
The Dutchmen scored two runs in the top of the first inning, and would never trail in the game. Adam Lee (Lipscomb) and Nick Jewett (Trinity University) reached on errors, and Albany had runners on the corners with one out. Jewett would get caught between first and second on a steal attempt, and the ensuing rundown saw Jewett dive back in safely at first and Lee score the game's opening run. The second run scored on a single from Sean Aspinall (Azusa Pacific).
The lead was trimmed to 2-1 in the bottom half of the inning. Cedric Mullins (Louisburg) singled to begin the inning, stole second base, and eventually scored on a sacrifice fly from Cody Burton (Alabama-Huntsville).
Utica scored again in the third inning to tie the game. A dropped third strike allowed Jabari Gayle (Northwest Florida State) to reach base, and a sacrifice fly moved him to second base. He stole third base, and came home when the throw trickled away from Dave Vaccaro (Radford).
Albany retook the lead in the fourth, which began with a double from James Locklear (Rider). A perfect sacrifice bunt from Jake Hanson (Valparaiso) moved Locklear to third, and a wild pitch allowed him to score and put the Dutchmen ahead for good.
However, the Brewers threatened in the bottom of the third, putting runners on the corners with no outs. Dutchmen starter Drew Tolson (Baylor) induced a pair of pop outs from the next two hitters. The inning would end on an outstanding catch from Aspinall in right field, saving a run.
Another leadoff run put the Dutchmen ahead 4-2 in the fifth inning. A leadoff single from Danny Hrbek (Radford) turned into a run, courtesy of an RBI single from Cameron Miller (Baylor). The lead was extended in the sixth, as Hanson walked, stole two bases, and scored when Lee was caught in a rundown.
After surrendering a leadoff double to Gayle in the fifth inning, Tolson retired the final nine batters of the game. The righty moved to 2-0 on the season, and struck out six hitters in his complete game. He also extended his walk-less innings streak to 22 innings. The loss was charged to Utica starter Patrick Boyle (Cincinnati).
The Dutchmen return home on Wednesday for a matchup at 7:05 with the Amsterdam Mohawks. It is Senior's Night, where three dollar tickets and free cookies and coffee will be available for fans age 65 and older. It is also Web Wednesday, and the Dutchmen will be running Facebook and Twitter promotions.