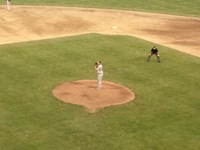 The Albany Dutchmen were unable to break their losing streak, dropping a 9-0 decision to the Elmira Pioneers Saturday night at Dunn Field in Elmira. It was the Dutchmen's third loss in a row, and eighth in their last ten games.
As has been the case in many Albany defeats, the Dutchmen surrendered an early run to fall behind. In this game, that run came in the second inning, when Christian Santisteban (Manhattan) doubled to lead off the inning, and scored on a wild pitch.
The big inning came in the bottom of the fourth for Elmira. The Pioneers plated seven runs on six hits to take an 8-0 lead. The runs came in on a single from Zac Bellinger (St. Rose), a two-run single from Taylor Hillson (Mansfield), and a two-run single from Drew Fisher (USC-Upstate). The scoring for the inning concluded on a two-run home run over the left field fence from Jason Patnick (Manhattan).
The Dutchmen bullpen was able to limit Elmira to just one run — driven in on a single from Bellinger in the sixth, over the next four innings. Dylan McGee (Trinity University) tossed 3.2 innings, and and allowed just the one run with two strikeouts. Danny Hrbek (Radford) worked his second scoreless inning of the season on the mound in the eighth inning.
The bright spots for the Dutchmen offense were Nick Jewett (Trinity University) and Jake Hanson (Valparaiso). Both players recorded two hits on the game, including a double for Hanson.
The winning pitcher for the Pioneers was Bryson Hough (Bucknell), and Spencer Hotaling (Susquehanna) was charged with his first loss of the season.
The Dutchmen return home on Sunday, facing the Adirondack Trail Blazers in a doubleheader beginning at 5:05. The Dutchmen will be hosting a fundraiser for the Muscular Dystrophy Association, and many great prizes will be available to win. It is also a Family Funday, where $14 buys two adult tickets, two youth tickets, and four food vouchers. The Dutchmen are also at home on Monday against the Utica Brewers for Bark in the Park Night.