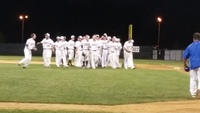 The Albany Dutchmen walked off for the first time in 2014, and topped the Utica Brewers, 5-4, in eleven innings.
Justin Brock (Franklin Pierce) clubbed a single to left field allowing Nick Morton (Washington and Jefferson) to score from second base with two outs in the eleventh inning. The game-winner capped a 4-for-6 day for Brock, where he also scored a run and stole two bases.
Before the heroics, Albany found themselves in a 4-0 hole after the top of the first inning. Five straight Utica hitters reached, with an RBI single from Cory Lerche (Gloucester CC), a two-run single from Zachary Torriente (New Mexico State), and an RBI single from Hayden Kelly (Polk State College) provided the four-run lead.
For the next ten innings, Dutchmen pitching held the Brewers without a run. The combination of starter Nick DiLeo (Wagner), Austin Goeke (Wagner), and Kyle Zurak (Radford) kept the Brewers in check, allowing the Dutchmen to rally. Zurak earned the win.
The Dutchmen scored their first two runs in the second inning, on an RBI double from Ernie Clement (Virginia) and an RBI groundout from Brock.
The lead was further trimmed to 4-3 in the fourth inning, when a leadoff walk to James Locklear eventually led to an RBI single from Morton. The Dutchmen had an opportunity to tie or take the lead, but the bases were left loaded.
The seventh inning saw the Dutchmen tie the game at four. Brock started the frame with a single, eventually moved to second, and scored on a base hit from Sean Aspinall (Azusa Pacific). Aspinall also had a stellar day in center field, chasing down numerous fly balls hit deep into the Bellizzi Field gaps.
In the tenth inning, Utica had a runner on third base, but Zurak would strike out Lerche to end the inning.
The game nearly ended in the bottom half of the inning, when Aspinall clubbed a ball to deep left center field that almost cleared the wall for a walk off home run. He was held to a double, and was stranded to end the inning. However, the Dutchmen's next chance would be the winner from Brock.
Zurak earned his first victory in his team-high ninth appearance. Shane Kemp (Kirkwood CC) was charged with the loss.
The Dutchmen head back on the road on Tuesday for a 7:05 game with the Newark Pilots. The next home game is Thursday, July 3rd, when the Dutchmen battle the Glens Falls Golden Eagles. The Dutchmen will host a Helmbold's Hot Dog Eating Contest, where the first participant to down five Helmbold's hot dogs will win a trip for two to Foxwoods Resort and Casino, four Albany Dutchmen season tickets, and a Helmbold's gift certificate. The top three finishers will receive prizes. It will also be All You Can Eat Night for $10!