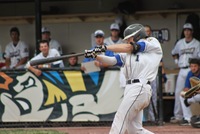 The Albany Dutchmen dropped the first game of a doubleheader to the Amsterdam Mohawks, and saw the second game suspended due to rain on Monday night at Bellizzi Field in Albany.
The first game was an 8-0 victory for the Mohawks, who never trailed after scoring two runs in the first inning. John Razzino (Franklin Pierce) walked with one out, and was brought home by Josh Gardiner's (Radford) double. Gardiner then came around for Amsterdam's second run on a double by JaVon Shelby (Kentucky) with two outs in the frame.
Amsterdam broke the game open courtesy of a five run third inning. Blake Logan (Auburn) drove in a run on a sacrifice fly after two runs had already scored on an error. Thomas Kain (Lynn) added an RBI single, and the scoring ended with a triple from Jonathan Pryor (Wake Forest).
The Mohawks picked up their last run in the top half of the fifth, when Logan scored on an RBI groundout by Pryor.
The two Dutchmen hits were provided by Adam Lee (Lipscomb) and Sean Aspinall (Azusa Pacific).
Drew Tolson (Baylor) was charged with the loss for the Dutchmen, while the win went to Thomas Hackimer (St. John's).
In the second game, the Dutchmen and Mohawks worked to a 2-2 score in the top of the fifth, when rain came through to suspend the game. The contest will resume on Friday, prior to the regularly scheduled Albany-Amsterdam game.
Amsterdam scored two runs in the first inning for the second game in a row, as Marcus Carson (Kentucky) and Razzino scored to give the Mohawks another 2-0 lead.
The Dutchmen were able to trim the lead to 2-1 courtesy of Justin Brock (Franklin Pierce), who reached on an error to start the inning. He scored on a Lee single.
Albany tied the game in the third, when Dave Vaccaro (Radford) led off the inning with a triple. He scored when Brock clubbed a single, evening the game for the first time.
Jamie Young (Lipscomb) worked 4.2 solid innings for the Dutchmen, allowing just the two runs in the first with three strikeouts.
The Dutchmen and Mohawks renew acquaintances tomorrow in Amsterdam, with first pitch scheduled for 6:35. The Dutchmen return home on Wednesday for a game with the Newark Pilots. It is SEFCU Hometown Heroes Night, where military, police, EMT, and fire officials will be honored and receive free admission.