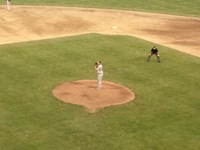 The Albany Dutchmen scored the opening three runs of the game, but gave up six unanswered runs to fall to the Glens Falls Golden Eagles, 6-3, on Monday night at East Field.
The Dutchmen got on the board in electrifying fashion in the top of the first inning. Justin Brock (Franklin Pierce) reached on an error to begin the game. He proceeded to steal second and move to third base on a groundout. Then, with two out Brock took off and stole home for the game's opening run.
The Albany lead was extended to 3-0 in the third inning, which began with a double from Will Miller (College of the Albemarle). An Adam Lee (Lipscomb) single drove in Miller to give the Dutchmen a 2-0 advantage. The third run was plated by Lee, who scored on a wild pitch.
A fourth inning double from James Locklear (Rider) would account for the final Dutchmen hit of the game, as 16 of the next 18 hitters would be set down, including eight of the last nine on strikes. The winning pitcher for the Golden Eagles was Sam Steeves (Franklin Pierce), who worked four hitless innings with six strikeouts. Tyler Ehlers (Colorado Mesa) earned the save with a three-strikeout ninth.
The game was tied in the fifth inning with three Glens Falls runs. The Golden Eagles ripped five straight hits, including an RBI single from Brandon Purcell (Georgia College) and a two-run single from Mark Powell (Bucknell). The inning ended when Drew Tolson forced a double play ball. Tolson tossed 6.1 innings and was not involved in the decision.
The winning runs were plated in the bottom of the eighth inning. Purcell drilled a three-run home run with one out in the inning to account for the decisive runs. Austin Goeke (Wagner) took the loss for the Dutchmen.
After the home run, tensions rose in Glens Falls, and four players — two from each team — were ejected.
After Tuesday's PGCBL All-Star Game, the Dutchmen will be back in action on Thursday at Shuttleworth Park for a game with the Amsterdam Mohawks. The next Dutchmen home game will come on Friday, in a doubleheader with the Golden Eagles. The game will begin at 5:05, and the 7:05 game will be the 4th annual Pink Game for Susan G. Komen for the Cure and the American Cancer Society, with the pink jerseys available for auction and a huge raffle at the park.